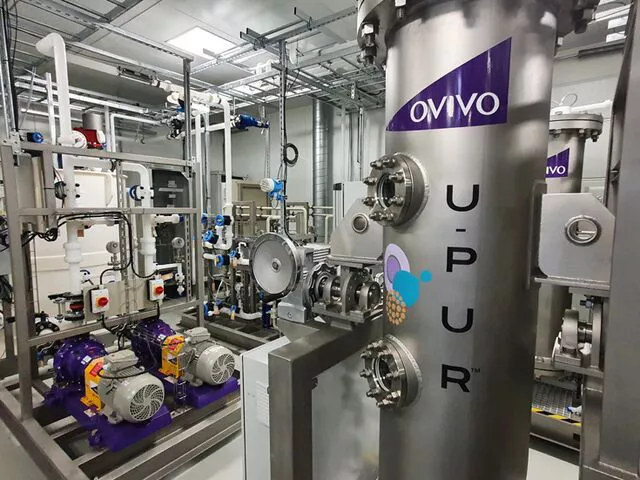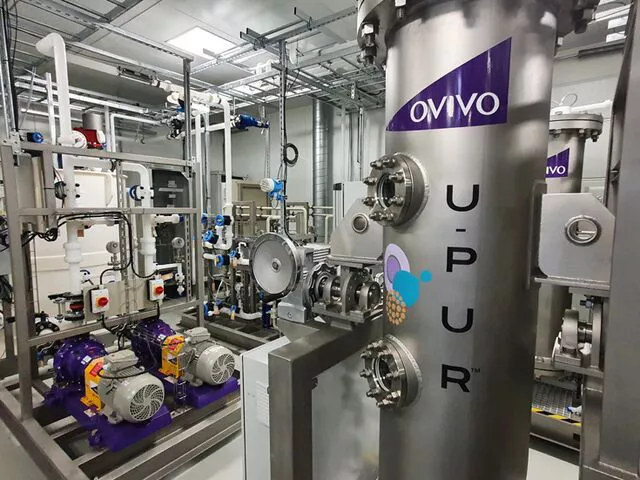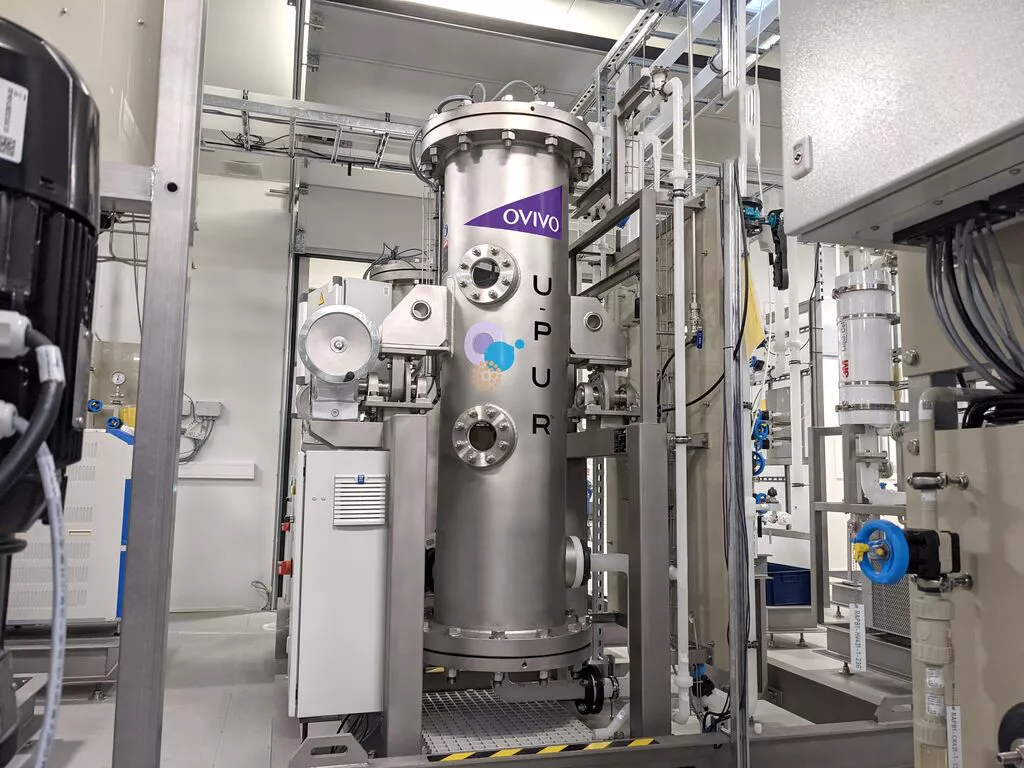 Metal-free Ultrapure water polishing solutions
U-PUR™
The U-PUR is the most compact, metal-free, reactor on the market for supplying Ultrapure water (UPW) to the electronics, medical and pharmaceutical industries.
Conventional polishing systems often involve ultra-violet (UV) reactors constructed of electro-polished stainless steel, which can act as a source of oxidizable particles contamination. U‑PUR metal-free reactor is able to remove Total Organic Carbon (TOC) and hydrogen peroxide traces, producing water far purer that traditional systems.
Contact an Expert
To face increasing UPW requirements, Ovivo has created the innovative U‑PUR solution – a metal-free reactor that combines multiple polishing steps to remove TOC and hydrogen peroxide traces. The U‑PUR design is a maintenance-friendly solution that eliminates piping, reducing the risk of contamination from metal exposure.
In addition, the standalone design allows increased flexibility in implementation as well as global project execution and reduced project lead-time. The U‑PUR provides numerous benefits over conventional UPW polishing systems, including:
Compact design
Low pressure drop thanks to the simplified process (less piping, less friction)
Optimised power consumption for energy efficiency
Optimised CAPEX and OPEX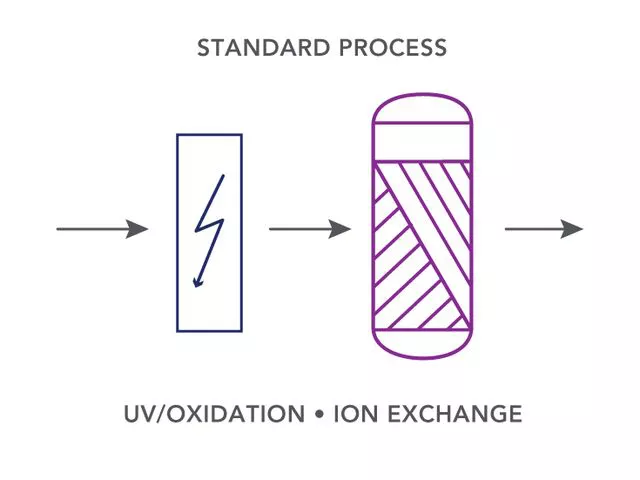 Polishing process
UV requires a highly reflective surface, which is inert to UPW. While electro-polished stainless steel is highly reflective, the welds made to form these cylinders are subject to oxidation forming ferric oxide (rust) and therefore must be thoroughly passivated.
Ideally, all welds would have their bumpy pitted surfaces grounded and then properly passivated in nitric acid but this is not always the case. Stainless steel also contains chromium, nickel and molybdenum, which are all mobile ions when not thoroughly passivated and exposed to UPW. The mobile ions lead to integrated device failure.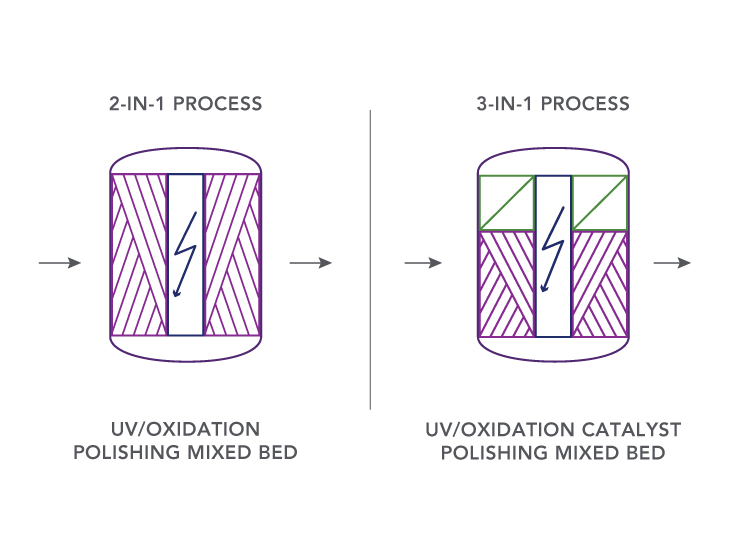 The U-PUR product combines the UV reactors with the mixed bed, in a 2-in-1 process, in order to remove the wetted surface of stainless steel. This represents a major advancement in UPW delivery and allows the system to deliver significantly higher water quality.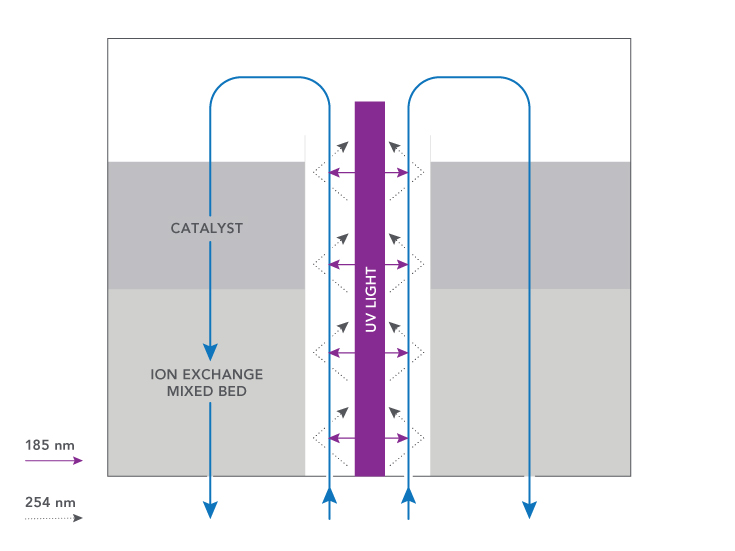 In recent years, hydrogen peroxide – a negative by-product of the UV – has become a topic of considerable interest. Ovivo includes an additional catalyst polishing step in the U‑PUR so that any peroxide generated is dissociated from the product stream. The standard 2-in-1 process can easily be upgraded to this 3-in-1 process at any time, without further modification of the system.
The three steps involved in the U‑PUR process are:
Polishing UV radiation. The UV-radiation units (LP-Hg Lamp 185 & 254 nm) are installed to oxidize the remaining organic compounds (TOC) to carboxylic acids and carbon dioxide, which can be better removed by the following process stages. The UV reactor, made of high purity quartz, integrates a self-reflective coating for 254nm light.
Polishing Mixed Bed. Within the Ultrapure-grade polishing mixed bed ion exchange resins, the last traces of ions but also of acids and carbon dioxide generated by the UV oxidation of TOC are removed. The use of our premium quality resins (OvivUP – M020) allows us to achieve < 1ppb TOC.
Catalyst. Special ion exchange resin (CatOX – 8020) is used for degradation of hydrogen peroxide traces (H2O2), produced by photolysis reaction in order to achieve up to < 1ppb H2O2.
With an ultimate capacity up to 50 m3/h (220 gpm), the U‑PUR is the most compact solution for high quality UPW production. For additional information download the Technical Data Sheet.