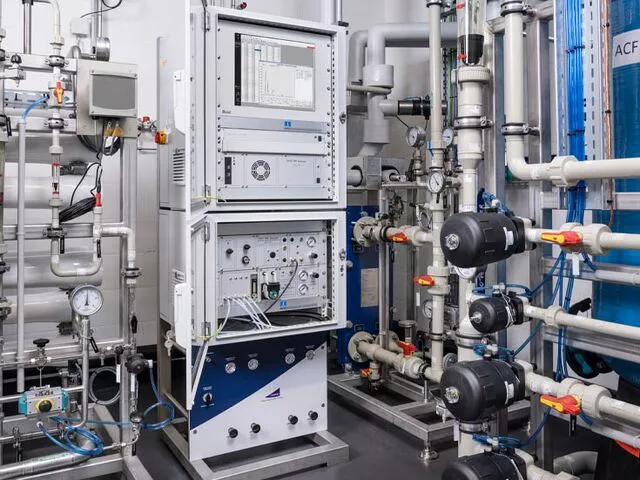 THM online process control
THM Analyzer 1501
Trihalomethanes (THMs) are critical contaminants in drinking water and Ultrapure water (UPW) and require monitoring as well as efficient removal.
Ovivo's THM Analyzer 1501 provides real-time measurements in potable water, process water and UPW with the aim of controlling THM removal processes or water disinfection processes.
Contact an Expert
Ovivo's THM Analyzer 1501 is a unique analyzer which is able to give measurements at real time in potable water, process and UPW with the aim to control THM removal processes or water disinfection processes.
The THM Analyzer 1501 is able to measure several common THMs such as: Trichloromethane (Chloroform) CHCl3, Bromodichloromethane CHCl2Br, Dibromochloromethane CHClBr2, Tribromomethane (Bromoform) CHBr3.
The THM Analyzer 1501 has the following important features:
ANALYZER FEATURES
No reagent required
Low maintenance
Typically, one calibration per month
Several measurements per hour
Up to four channels included for grabbing samples
Each component of THMs detected, quantified and recorded
Minimum utilities needed: Compressed air and power
Continuous automatic online sampling and analysis
SOFTWARE FEATURES
Automatic operation after initial start
Data logging – reports can be generated daily, weekly or monthly showing min/max limits
Dedicated software saves all measurements and external signals (optional)
Automatic analysis cycle, from sampling to evaluation
Gas chromatography analysis
Customised sampling channel sequence
Calibration protocols available
Alarm outputs and input/output control signals
The application is for raw water, process water and UPW.
Headspace gas chromatography with highly reliable and sensitive PID/TID detectors
The THM Analyzer 1501 consists of a gas chromatograph (GC) with thermal ionisation detector (TID) and photo ionisation detector (PID) connected to an industrial computer equipped with analytical software for the evaluation and documentation of the measurements.
The water sample passes through a multiplexer to a sample preparation unit, which operation is based on a headspace method. The sample is heated for a defined period of time at a set temperature and the volatile substances from the sample enter the gas phase. When a balance between the liquid and the gas phase is reached, the resulting overpressure forces the gas towards the sample loop of the gas chromatograph.
The individual compounds are analysed using separation columns and detectors (PID and TID) which generate signals displayed on chromatograms. The concentration of the compounds are then calculated by evaluation software through determination of respective peak height and integration of peak surface.
Limit of detection
1 ppb for each component
Quantification Range
THM GC-PID-TID 1…500 ppb THM
THM GC-TID 1…200 ppb THM
Sampling channels
Up to 4
Average measurement time
15…30 min / sample
Volume per sample
< 250 mL
Max. sample pressure
10 bar (145 psi)
Voltage
115 or 230 VAC / 50 or 60 Hz
Power consumption
500 Watt
Dimensions
656 x 653 x 1800 mm
(25.8 x 25.7 x 70.9 in)
Operation mode
Automatic/selectable sequence or manual single measurements
Online or grab sample analysis