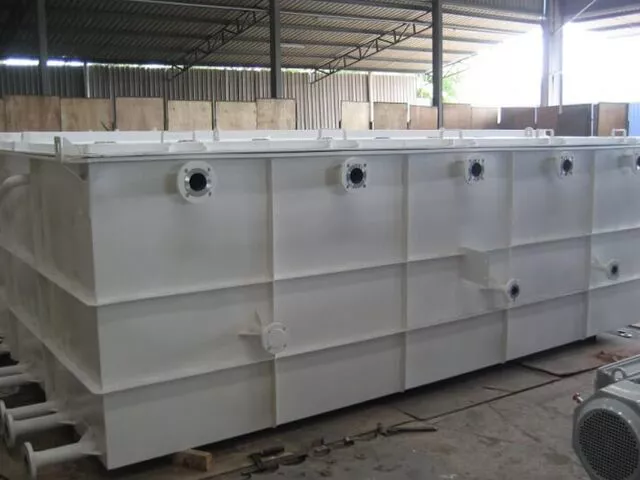 Free oil removal from petrochemical industry wastewater
EnviroSEP™ Corrugated Plate Interceptor (CPI)
Ovivo EnviroSEP CPI provides oil and water separation for petrochemical, and other, industries. The unit is designed to remove free oil from contaminated streams in compliance with the most stringent discharge requirements.
EnviroSEP CPI is a robust and proven technology that provides the same removal efficiency as traditional gravity separators, but in a smaller footprint. The system is tolerant to minor corrosion and erosion as there are no moving parts and no tight tolerance seals.
Contact an Expert
The EnviroSEP CPI system provides oil and water separation for a multitude of applications, including the industrial wastewater processing, process water pre-treatment and stormwater treatment.
For petroleum refineries, the EnviroSEP CPI system is ideal for the pre-treatment of wastewater prior to other physical, chemical and biological treatment methods, allowing removal and recovery of free oil with the highest efficiency.
For the mining and power industries, the EnviroSEP CPI system is commonly used for free oil removal from process water, heavy vehicle and equipment washdown and stormwater run-off. EnviroSEP CPI technology is also a reliable system for the treatment of water collected in oil-contaminated bunds and recovery of bulk oil and suspended solids.
EnviroSEP CPI provides outstanding performance
Outstanding Performance The EnviroSEP unit is designed to remove all free oil from contaminated streams to comply with the most stringent of discharge requirements. Typically, no more than 5mg / l of oil will remain, with no visible sheen.*
Multiple-Stage Plate Pack The EnviroSEP unique muilti-stage plate pack ensures high performance at all times. The first stage is designed to remove gross slugs of oil and is followed by the polishing stages, which remove any remaining droplets. This ensures that the treated water contains no traces of free visible oil.
Stainless Steel Plate Pack The plate packs are fabricated from flat stainless steel sheets, configured to maximize coalescing of oil droplets. The plate pack will never warp or corrode, ensuring performance for the life of the unit
*Please confirm performance requirements with your local Ovivo office prior to purchase.
EnviroSEP provides a range of technical features and benefits, including:
Designed for high-efficiency oil separation

Unrivalled quality and performance

Thousands of

EnviroSEP

unit installations worldwide

All stainless-steel construction, including plate pack and internal oil tank

Ovivo experience across all industrial sectors, including refineries, terminals and power stations

Capacities ranging from 1KL/hr to 100KL/hr

Available as pre-assembled, pre-tested units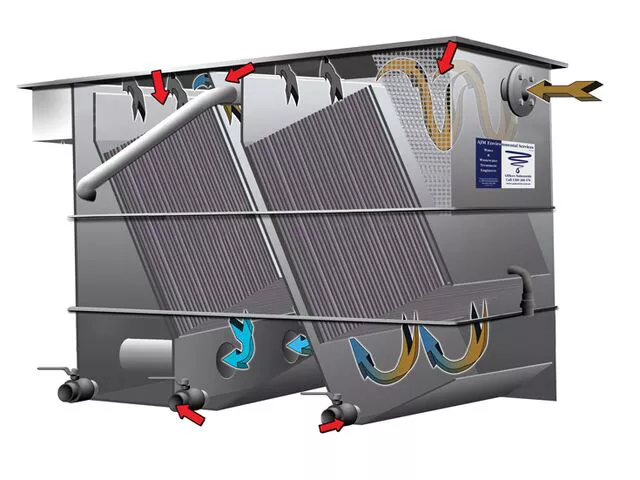 EnviroSEP design features
The EnviroSEP CPI system is used to remove free oil from wastewater by allowing oil droplets to coalesce and rise to the surface for separation and skimming. The treated water flows downwards through the pack(s) into the adjustable outlet weir box.
The EnviroSEP CPI has numerous features that are designed to maximize the performance of the unit, including: laminar flow conditions (achieved by specially designed inlet distribution baffles), uniform distribution throughout the oil separator plate pack, materials that attract oil and encourage coalescing; 60-degree plate pack angling to maximize solids removal and reduce maintenance.
The EnviroSEP unit is fitted with a major spill protection cut-off security system which, following a major spillage, automatically stops the feed to the unit within a matter of minutes. This feature ensures optimum performance under any influent conditions
Internal Oil Tank All of the EnviroSEP units are designed with an internal oil tank, preventing the need for unsightly drums or other containers to collect separated oil. Solids Removal Facilities All models are fitted with several drainage points to facilitate cleaning and solids removal.
Unlike many other units, the cleaning process for the EnviroSEP unit does not require full drainage, nor is it necessary to remove the plate pack. Pre-Screening Facility The inlet strainer basket, supplied as standard in all EnviroSEP units, is designed to prevent any possibility of plate pack blockages. The basket is easily removed for cleaning.
EnviroSEP CPI
key advantages and data
High efficiency oil separation via multiple stage coalescing plates

Heavy duty Industrial design with no moving parts, minimal maintenance requirements and costs

Adverse environments, able to operate at high temperatures and with high solvent loads

Consistent performance, assured environmental compliance

Less Fouling
Capacities and Sizes
Model                       KL/hr          L             B           H
EnviroSEP P1                1             1060         600        1250
EnviroSEP P2                3             1380         920        1410
EnviroSEP 24              7.5             2200        980        1175
EnviroSEP 32              10              2250        980        1390
EnviroSEP 48              15              3230        980        1390
EnviroSEP 64              20              2250       1860       1390
EnviroSEP 96              30              2330       1860       1435
EnviroSEP 144            45              3230       2740       1435
EnviroSEP 196            60              3230       3620       1435
EnviroSEP 288            75              3230       4500       1435
* Dimensions and capacities are subject to change and offered for guidance only. Please confirm details of your selection with Ovivo before using the above.