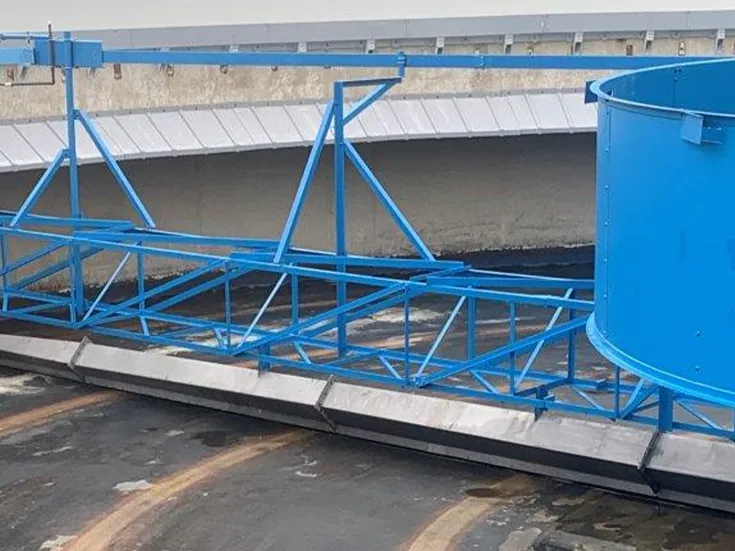 Rapid return of sludge solids in secondary clarification
Suction Header Clarifier
Designed for secondary clarification in municipal wastewater treatment applications, suction header clarifiers provide excellent performance and operational simplicity with well-engineered components for a rapid sludge removal by suction.
The clarifier's suction header is designed using a hydraulic computer model which allows for a uniform withdrawal rate across the entire basin floor at a given flow.
Contact an Expert
The Suction Header Clarifier (Ovivo type C3D) provides fast efficient solids withdrawal of activated sludge, providing a steady return of fresh, active biomass.
Ovivo's Suction Header Clarifier also provides:
Low maintenance
Trouble free installation
Long-lasting durable design
Unique header design provides uniform withdrawal across the entire basin floor
This design is available in bridge or column supported clarifier configurations.
Designed for rapid sludge removal, the Suction Header Clarifier features a suction duct header coupled to a rotating sludge collection manifold. The manifold is attached to the bottom end of the centre cage and is sealed around the centre column and to the tank floor. It also encompasses the sludge discharge pipe, which terminates at the tank floor level. Negative pressure pulls sludge through the suction header then through the manifold and ultimately through the sludge discharge pipe.
The suction header has a tapered rectangular cross section with orifices spaced along its length. The orifice size and spacing are designed so that sludge withdrawal is proportional to the relative area of the tank served. The header, tilted at 45 degrees, is fitted with an extended blade and neoprene squeegee to direct sludge to the header orifice.
The manifold, suction header and support arms rotate via the clarifier drive connected to the support cage.
Available mechanism fabrication materials: A36 steel, hot dip galvanised steel, painted steel, 304 & 316 stainless steel, special material options also available
Headers comes in hot dip galvanised (HDG) steel or stainless steel (SS)
Scum skimming designs available: conventional scum box, full-trough skimmer, rotating pipe skimmer
All sizes are supported from a structural steel cage and truss arm assembly