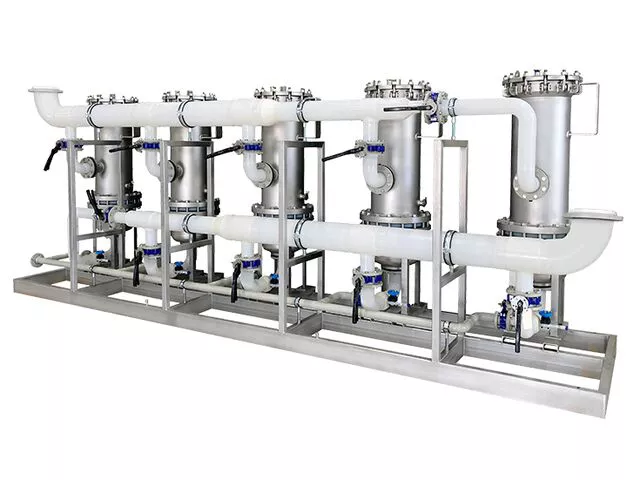 Reliable high-quality filtration
Cartridge Filter Housings
Engineered to provide reliable high-quality filtration, and often used for polishing filters in almost all types of industrial water filtration processes, Cartridge Filter Housings are the ideal choice for pharmaceutical, food and beverage, reverse osmosis pre-filtration and Ultrapure water (UPW) polishing.
Ovivo's Cartridge Filter Housings are available in numerous circular configurations, according to different standards, in order to fit a wide range of applications. Our products meet the most stringent requirements, including the final stage of the polishing loop for UPW systems in the semiconductor industry.
Contact an Expert
For several decades, Ovivo has managed the most challenging water filtration and UPW production tasks. Our in-depth knowledge and experience of the industry allows us to provide our partners with the most effective and reliable solutions. Ovivo includes the latest technology for our partner's projects, ensuring current and future specifications and regulations are met.
Ovivo Cartridge Filter Housings are available in diameters from 219 to 508 mm (8.6 to 20 in).  Standard models can support multiple filter cartridges, ranging from 5 to 28 in total.
All vessels are designed and manufactured according to the American Society of Mechanical Engineers (ASME), Section VIII, Division 1 design code for pressure vessels and to the European Pressure Equipment Directive (PED) (2014/68/EU) in order to meet all local regulations.
Other features and benefits include:
Peak performance: wide range of flow and filtration capability
Reduced footprint: compact and light design
High quality materials: SS 316L, Halar and PVDF
UPW compatible: no exposed metal, wetted area is fluoropolymer lined with Halar (E-CTFE)
Easy maintenance: the vessel design provides direct access to cartridges though the top flange, enables easy filter element replacement
Performance value: reduced investment in infrastructure and low operating cost
Solutions for a range of applications
Industrial applications
The stainless-steel housings are typically used for industrial and general high-flow applications. Stainless steel welds are pickled and passivated to remove contaminants and assist in the formation of a continuous chromium-oxide passive film. This passivation technique prevents rust formation. The Cartridge Filter Housings are pickled and passivated inside and out to meet both European and ASME standards.
UPW applications
The CFEHA (Cartridge Filter Housing according to European Standard with inside Halar coating) and CFAHA (Cartridge Filter Housing according to ASME with inside Halar coating) models are the ultimate choice to fulfill the specific needs of UPW applications. Both models are pickled and passivated inside and out prior to the application of Halar. These state-of-the-art filter housings include high performance 316L stainless steel with all wetted surfaces fluoropolymer lined. This ensures Ultrapure water never comes in contact with exposed metal, ideal for nanotech manufacturing.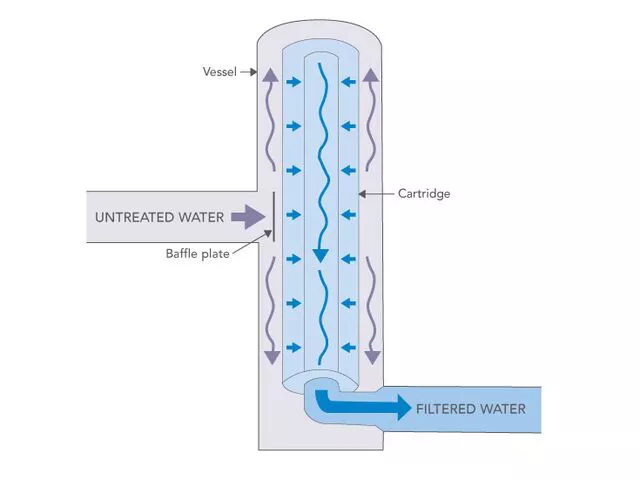 The working principle behind this technology involves mechanical filtration using different precision pores of the filter element. All contaminants can be trapped in the surface and pores of the filter cartridges because of the outside-to-inside flow direction. Due to the flow direction, these filters require a strong core to be able to handle the increased pressure differential during operation.
Under the influence of pressure, the feed water enters the housing and passes evenly through the filter cartridges (outside-in-filtration technology). Impurities and particles are captured on the surface of the filter element and the filtrate flows through the filter core. The filtered water is collected at the housing outlet.
For larger filter housings, a davit can be provided to make short work of lifting a filter housing lid and moving out of the way. Filters can then be changed with ease. A davit is essentially a cantilever used to reduce the workforce required when performing filter maintenance.
Contact Ovivo to ensure your filter media can be used in one of our filter housings. Ovivo can provide the most suitable and cost-effective filter media for your application. Ovivo's filter housings are compatible with almost every filter media on the market, so it is also possible to continue using your current filter media if preferred.