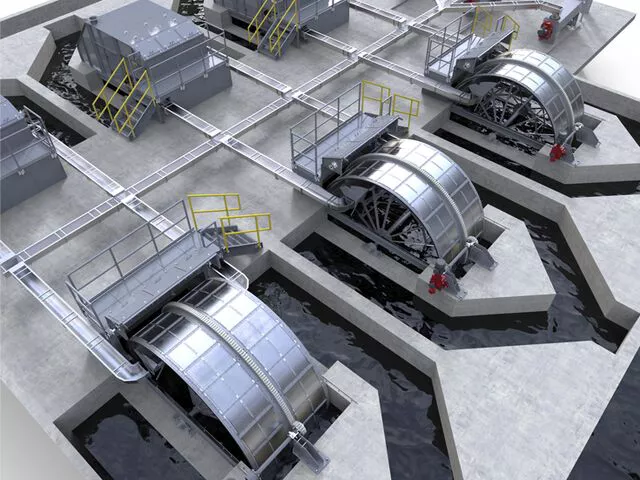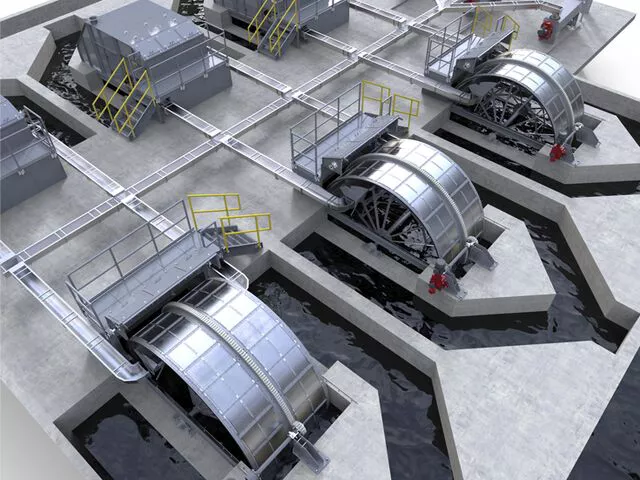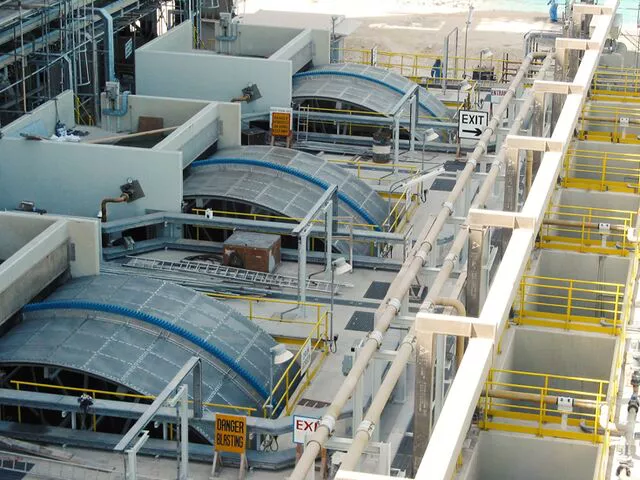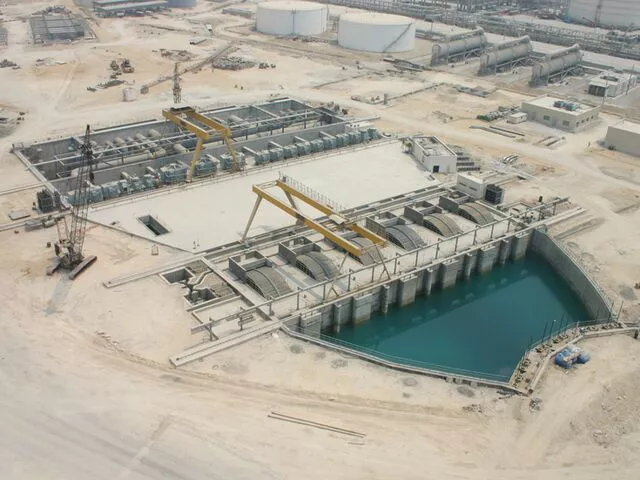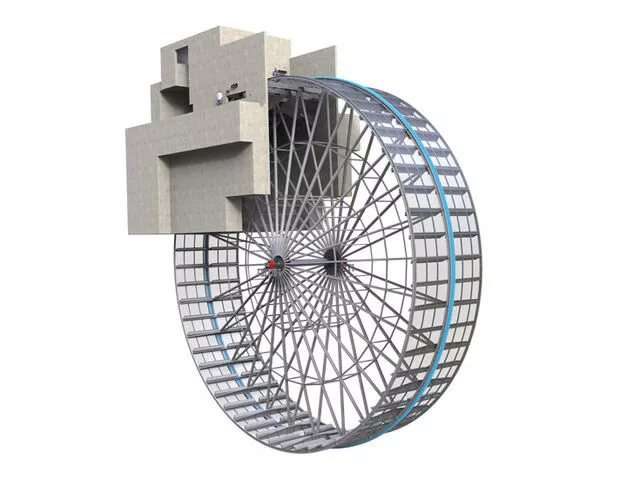 A high-capacity debris removal solution for water
Brackett Green® Double Entry Drum Screen
The Brackett Green Double Entry Drum Screen efficiently captures and removes large volumes of debris, including jellyfish, in order to protect downstream equipment for large cooling water, drinking water and wastewater applications.
This product is ideal for processing high water volume and debris loads. It is a fully automated, 24-hour debris collection, conveyance and discharge solution. The system provides exceptional value due to its unsurpassed longevity and low maintenance and operating costs.
Contact an Expert
The Brackett Green Double Entry Drum Screen offers the highest capacity throughput and debris-capture ratios within the industry. The A-frame construction provides a light, rigid structure, ideal for withstanding seismic and hydraulic loads. The in-to-out flow pattern creates a downward load that eliminates the risk of the screen breaking free from its foundation and eliminates debris carryover.
Some of the important features and benefits of the Brackett Green Double Entry Drum Screen include:
 

Customisable design for optimal flow efficiency

 

High differential applications

 

Seismically qualified for nuclear power applications

 

Zero carryover of debris
A fully customisable solution
The Brackett Green Double Entry Drum Screen is fully customisable and offers a range of benefits that put this product ahead of the competition, such as:
The Brackett Green Double Entry Drum Screen can be designed to maintain operability during and after high load applications, such as extreme debris influxes, jellyfish attack or seismic events

This system can utilize a 9.0 mm thick, proprietary and patented ProPaPanel®, which is proven to eliminate hair pinning, or stapling from hair and fibrous debris, which makes it ideal for municipal applications

It is opsCTRL™

enabled to allow remote digital monitoring and diagnostics from mobile phone, tablet or PC
The Ovivo team works closely with all partners to assist with their debris removal needs and create a customised system.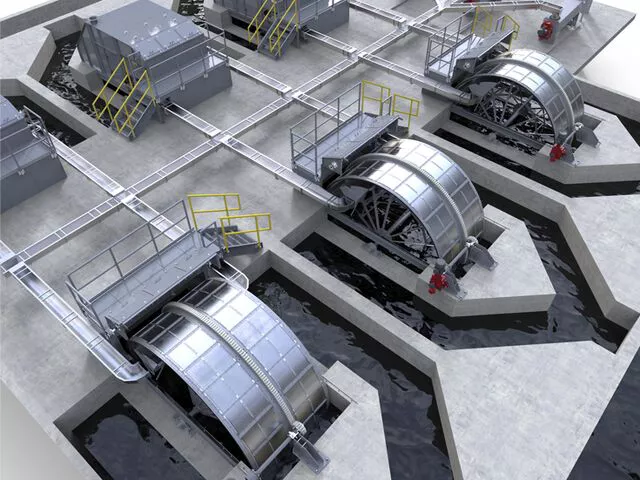 The Brackett Green Double Entry Drum Screen consists of a robust drum structure with a solid horizontal main shaft that revolves slowly in heavy duty, self-aligning roller bearings, lubricated by deck mounted oil reservoirs or grease points.
Water flows from the inside to the outside of the drum through mesh panels arranged around its periphery. Mesh panels are backwashed with high efficiency jets at deck level to maximise cleaning performance.
The screen is driven by a motorised gearbox positioned at deck level for ease of maintenance. The gear unit is connected to a nylon pinion which engages with a low wearing gear rack on the outside of the drum.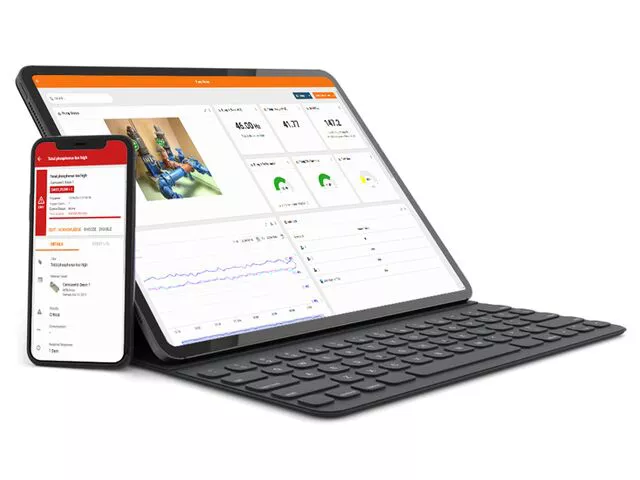 opsCTRL™ can be supplied with the Brackett Green Double Entry Drum Screen, enabling remote monitoring, Ovivo service engineer contact, storage of O&M manuals and predictive maintenance tracking.
The Brackett Green Double Entry Drum Screen has been successfully installed in hundreds of applications worldwide. Through years of experience the system has adjusted and fine-tuned, resulting in a patented product that is designed to meet the following specifications:
Flow capacities up to 45 m

3

/sec (1000 MGD), but large specifications possible through customisation

Mesh aperture sizes ranging from 0.5 mm to 10 mm

Robust design that can sustain high differentials

Diameter from 3 m to 27 m (10 ft to 88 ft) with effective widths up to 6.0 m (19.7 ft), but large specifications possible through customisation

Fully customisable range of materials in carbon and stainless steels

Engineered odor control covers for wastewater application