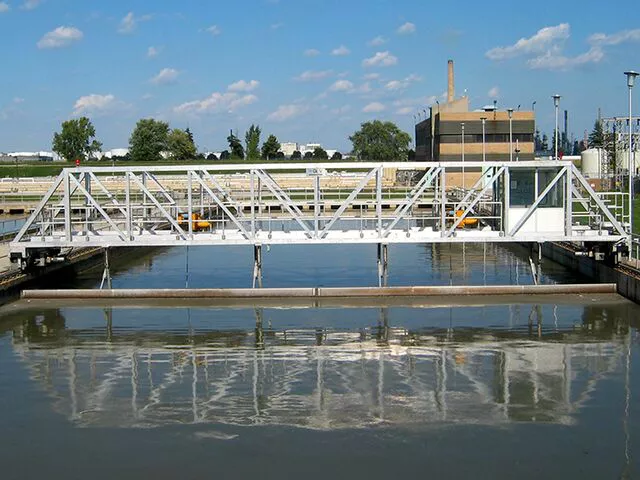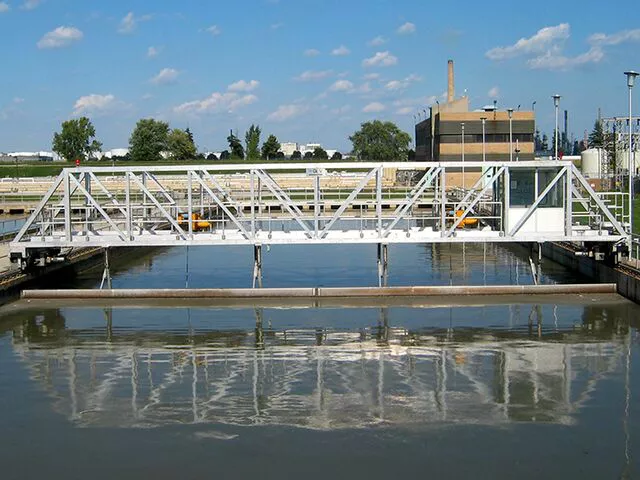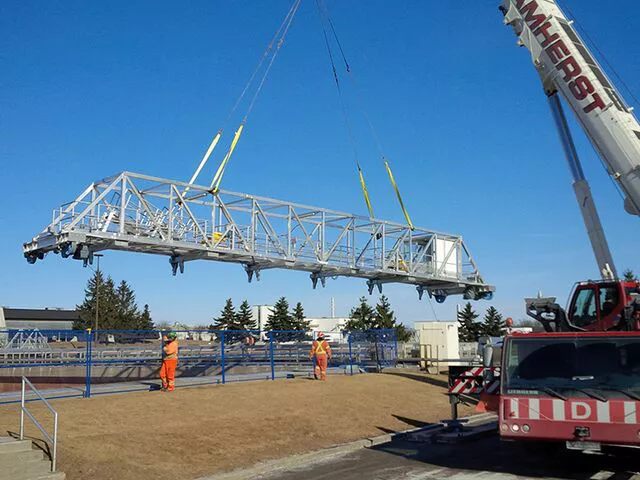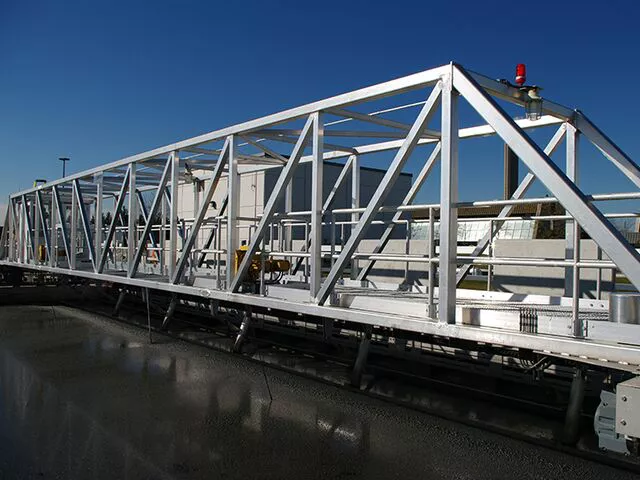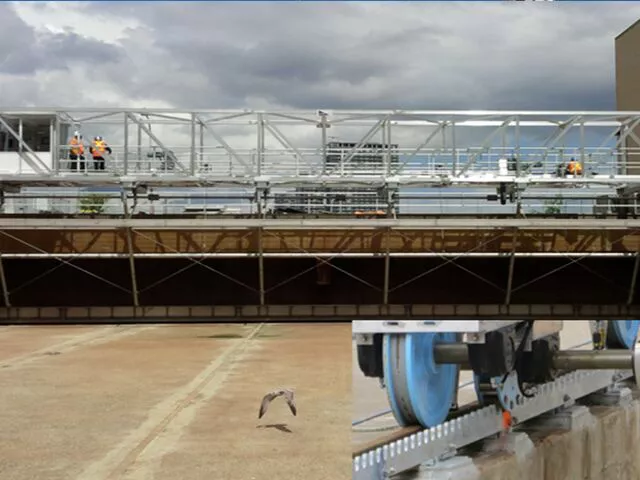 Reducing clarifier downtime
Traveling Bridge Clarifier
Ranging from 12 m (40 ft) to 30 m (100 ft) wide, or even wider, the Traveling Bridge can be added or retrofitted to virtually any rectangular basin with few, if any, modifications in most water and wastewater applications.
Available with the newest technologies, our designs increase safety, reliability and lifespan. Our bridges have few, if any, moving parts below the surface, allowing maintenance to be performed above the tank without taking the clarifier basin offline.
Contact an Expert
Compatible with virtually any rectangular basin floor shape or profile, the traveling bridges are suitable for several applications including water and wastewater treatment in sedimentation, primary and secondary clarifiers. They are equipped with scraper plows or hydraulic suction technologies to convey or remove solids, sludge and scums.
From simple beam to large walk-through truss superstructures, Traveling Bridges may be manufactured from galvanised steel, stainless steel, or aluminium. To travel smoothly and reliably along the basin, Ovivo offers various drive technologies including four-wheel hydraulic, cogwheel drives with line shafts, or dual-synchronous independent drives.
Possessing more than 150 years of expertise from trusted brands such as Enviroquip®, Dorr-Oliver*, Eimco Water Technologies® * and GL&V, Ovivo has continued to invest and improve in the reliability and durability of the Traveling Bridge products. Ovivo has perfected the traveling bridge design with the newest available technologies and manufacturing standards to optimise safety, reliability and serviceability. Ovivo maintains a full-time team capable of supporting, designing and retrofitting any Traveling Bridge sludge collectors, whether ours or from other OEMs.
Additionally, our Traveling Bridge Clarifiers have the following features:
Specially designed to avoid end truck misalignment, derailing or crabbing issues
Adaptable to virtually any basin profile whether sloped, stepped or flat
Various types of scrapers and skimmers under carriages available to suit different applications and basins designs
Optimised components including split bearings and high-grade materials ensure low maintenance and easier serviceability
Convenient relay or PLC based controls compatible with SCADA via hard-wired or radio-controlled monitoring
Optional climate-controlled weather enclosure/kiosk for maintenance and monitoring in cold weather environments
Can be shipped fully assembled
And Benefits:
30+ year lifespan
Low operating costs
Capable of handling heavy sludges up to 7 percent
Increased treatment capacity due to common wall construction
Improved maintenance features for easy upkeep
Customisable designs for retrofitting or repurposing existing basins
Ovivo's team can further lower your costs by retrofitting existing mechanisms from virtually any manufacturer, either partial or in total, extending the life of existing basins. Contact us for more information on the Traveling Bridge.
* Ovivo has a limited license right to use such marks and brands in the United States and Canadian municipal markets.
Rectangular clarifier mechanisms, such as Ovivo's Traveling Bridge, perform the same functions as circular clarifier mechanisms by removing solids and scum from the water. The Traveling Bridge is installed above the tank, making it easy to access all components without entering the basin. The traveling bridge consists of two end trucks that move the bridge along the length of the basin, and an undercarriage mechanism that collects and conveys the sludge. This design allows for efficient removal of solids, while also providing accessibility for maintenance and operation.
Ovivo makes three different types of under carriages for Traveling Bridge Clarifier to suit the various types of basins designs and processes.
The scraper type has a set of rake blades and squeegees suspended from the bridge, which collects settled solids on the tank bottom and scum from the surface of the water. The bridge scraper blade plows the sludge to a hopper at one end of the tank.
The suction type collects sludge from the bottom of the clarifier via suction tubes and delivers it to a sludge trough that runs through the entire length of the basin. This is typically used in secondary clarifier basins
The teeter-totter style conveys sludge in both directions and deposits the sludge in the sludge hoppers located at various points along the basin floor. It is typically used in secondary clarifier applications
Traveling bridge clarifiers are customisable for various tank configurations and environments, and feature a variety of options to suit operating needs.
Bridges can be manufactured in carbon steel, 304SS, 316SS and aluminium
Undercarriages are available in hot dipped galvanised steel, 304SS or 316SS for various levels of corrosion resistance
Available with various traction drive configurations including two-cog wheel or four-wheel hydraulic drive packs
Cog wheel drive configurations are available with line-shaft or dual-synchronous electric drive configurations
Conductor bar, festoon, cable reel or e-chain system type electrification are available for various applications and environments
Bridge weather enclosures are available for protecting operators and control panels in harsh climates
Bridge controls are available with relay or PLC-based technologies
May be provided with hardwired ethernet or wireless/radio telemetry for communication with plant SCADA or DCS
May be compatible with Ovivo's Submerged Effluent Launder (SEL) system
Fabricated effluent troughs along with weirs and scum baffles can be provided