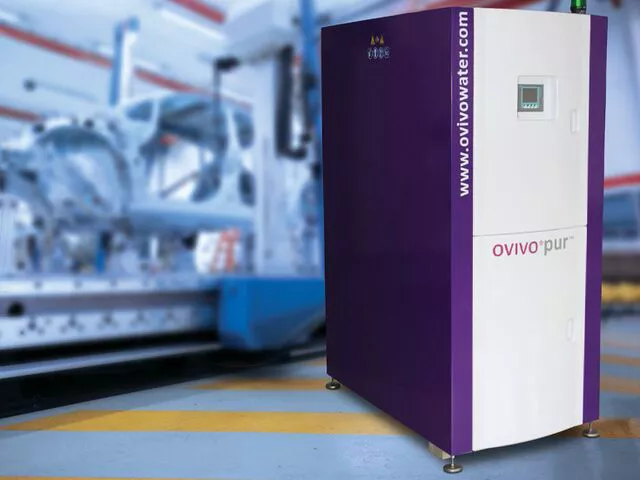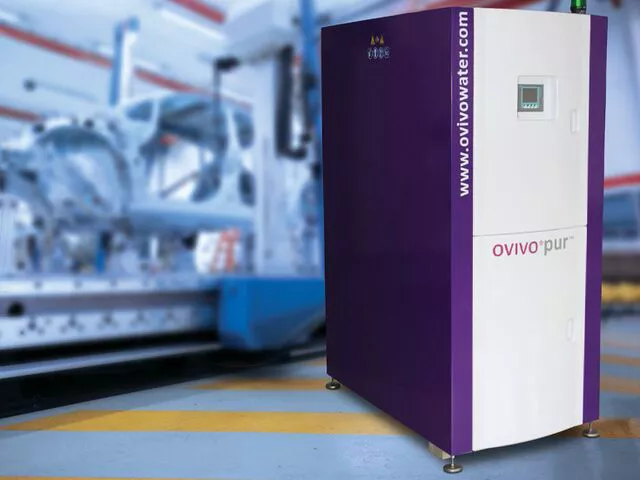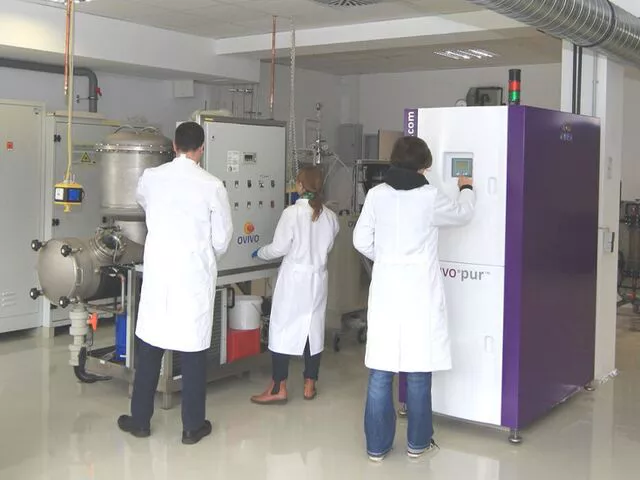 Anodizing Process Water Treatment Equipment
OVIVO® Pur™
Anodising processes use high volumes of acid. Without a reliable acid recovery system, significant wastewater is generated, which requires treatment. Ovivo Pur is the perfect solution for acid recovery, reducing treatment costs and optimising equipment life.
Ovivo Pur reduces the volume of wastewater with no additional chemicals and can be installed directly in the process line as it is fully protected from liquid projections.
In some industries, such as the aluminium industry, a high volume of acid is used for the anodising. Acids, water and energy consumption, as well as limitation of wastewater to be treated, are key elements that have to be conscientiously managed through a reliable system that optimises control and reduces production costs.
With the Ovivo Pur continuous regeneration and purification process, anodising baths no longer have to be discharged and replenished, eliminating the need for neutralisation with sodium hydroxide solution or lime. Furthermore, the investment in new batches of sulphuric acid will become obsolete.
Other key features and benefits of Ovivo Pur include:
Wastewater reduction up to 50 percent compared to conventional equipment
Designed for a 100 percent capacity expansion
Reduced energy and chemical costs
Possibility to expand the Ovivo Pur 50 model to a Ovivo Pur 100 equipment capacity without additional capital investment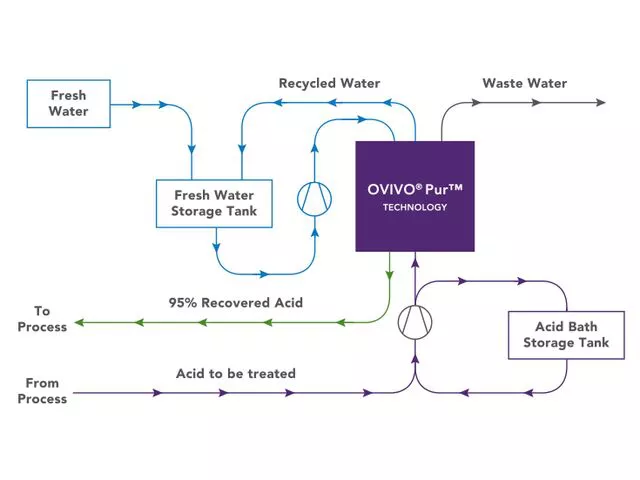 Ovivo uses a special anion exchange resin to separate and control the concentration of metal salts in the solution. While treating the anodising bath, free acids are held back by the resin, while metal salts are allowed to pass through the ion exchanger. During regeneration of the media with water, the acidic electrolytes are released and returned to the anodising bath while the metal salts are wasted. This process is repeated continuously until the plant is turned off.
The anodising bath solution is pre-filtered and collected in the buffer tank for volume control. The filtered acid solution is then pumped upwards through the Ovivo Pur ion exchange column, filled with a special acid retaining resin. In this process, the acid will be retained by the resin and the metal salt solution will pass through and be discharged to the sewer.
Fresh water previously stored in the fresh water tank for volume control will be pumped, counter flow, through the Ovivo Pur ion exchange column to remove the acid from the resin. In this process, the acid which was retained by the resin, will be freed and returned to the anodising bath. This process will be repeated each time a low-level signal is received from the buffer tank.