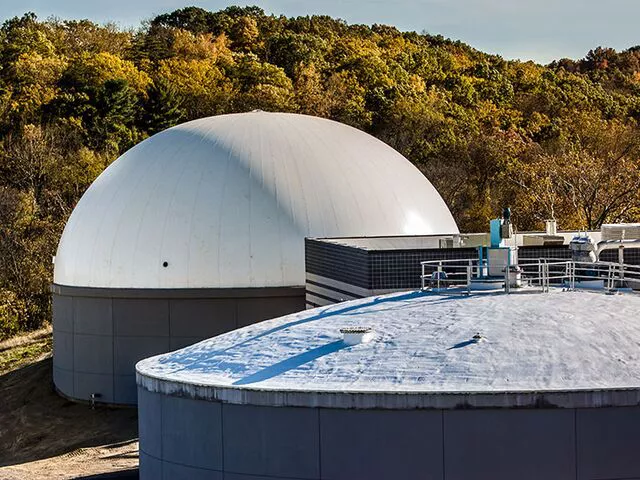 Digester Covers/Gas Storage
Anaerobic Gas Storage/Tank Covers
An essential and requisite part of the anaerobic digester covers not only provide a seal above the digester tank to ensure that the contents are kept in anaerobic state but also provide thermal shielding, contain odour and offer high volume gas storage for recovery and reuse.
Ovivo has vast experience with steel and membrane digester covers, providing a range of design options that allow for ultimate flexibility in digester gas containment and storage.
Ovivo provides a variety of steel digester covers. Each cover is constructed as a dome-shaped segment of a sphere, offering maximum strength and structural integrity. These steel covers are an affordable and durable option for anaerobic digesters and/or biogas containment and are available for tank diameters of different ranges. Each product is custom engineered to meet the customer's requirements and needs, based on a wide variety of industry standards and proven design.
Our designs include the following configurations: Fixed, Gasholder, HydroSeal® type and Buoyant steel cover, providing the best option for each application based on the customer's needs. From the simple and low-cost Fixed Steel Cover for primary or first stage digesters, to the buoyant Gasholder Steel Cover for digester gas storage, our radial beam covers are designed for the wide range of needs of biosolids facilities.
Other features and benefits include:
Simple and rugged construction designed for a life span of 30+ years
Radial beams and prefabricated EZ-RECTTM roof system sections for easier and faster field installation
Easy to insulate using commonly available roofing materials
No moving parts for simplified maintenance
Flexible storage capacities
Compatible with all our available mixing systems to ensure optimal anaerobic digestion
U.S.-based manufacturing
Over 1,300 installations worldwide
Ovivo digester steel covers are radial-beam designed to be erected quickly and efficiently on site and offer a rugged structural design. A thrust ring is installed at the periphery of each cover to absorb all loads without transmitting excessive forces to the concrete digester wall. During erection, the cover is supported by radial beams attached to a centre ring and the thrust ring which add strength to the complete unit.
Fixed Steel Cover (Type F) – the Type F cover is the most economical steel cover. The main application is on digesters with constant water level (primary or first stage digesters). The Fixed covers can be sealed against the tank to combat odours. For this design, the side sheet should be extended below the minimum liquid level.
Gasholder Steel Cover (Type GV) – the Type GV uses the radial beam design structure with added side sheet and ballast for digester gas storage. Submerged ballast blocks are used to maximise cover stability and maintain adequate gas pressure. The design includes a vertical guide arrangement with guides attached to the tank wall. Guide devices, spanning from the top to the bottom of the cover side sheet, are engaged to stabilise the cover.
Hydroseal Steel Cover (Type GVL) – the separate launder and liquid seal between the digester tank and the cover eliminates gas and VOC emissions, improves service access and improves the maintenance access. This design allows variable sludge storage capabilities since the side sheet operates independently of sludge storage in clean area. No components come in contact with the sludge.
Buoyant Steel Cover (Type B) – the Type B uses the radial beam design structure including a peripheral buoyant chamber. The cover floats directly on the digester contents. Precast concrete ballast blocks are placed to maintain a specified gas pressure. A major portion of the buoyant volume which keeps the cover afloat is located at the cover periphery. This feature provides an excellent resistance to tipping. The slide guide system will provide vertical movement without rotation or binding.
The EZ-RECT cover erection system is a feature that Ovivo offers to reduce the amount of field welding required during installation. Ovivo provides the digester cover with cover plate/radial beam sections pre-assembled and finish welding in the shop to facilitate the erection of the cover. Each assembly consists of two beams and one cover plate. Cover erection is completed in five steps:
Side sheet assembly
Centre ring and erection beam installation
EZ-RECT cover plate assembly installation
Remaining cover plate installation
Manholes, spools, tubes, etc., installation