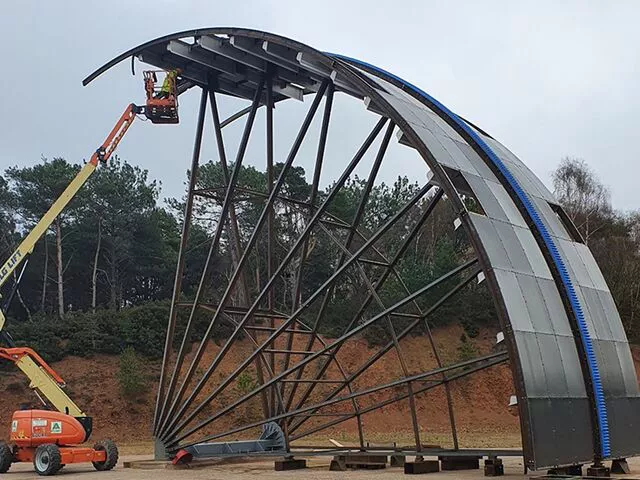 Company News
The Hinkley Point C Project
Connecting six million UK homes to low carbon energy
Hinkley Point C is a new nuclear power plant that's being developed by EDF in Somerset, UK and the first nuclear power station in the country to be built in 20 years. The project should be operational in 2027 and has a projected lifetime of 60 years, supplying six million homes with reliable, low-carbon electricity.
Ovivo is the nominated supplier of the inlet filtration equipment which includes the designing, manufacturing, and supervision of erection & commissioning activities. Our equipment will be filtering the water coming in through intake tunnels, built 3.3km offshore, in the Severn Estuary. The cooling seawater will then run through the turbine condensers, auxiliary equipment in the turbine hall and safety-related systems within the nuclear island.
We've been working on this massive project since 2017. The systems we are supplying include:
Drumscreens
Drumscreen wash water equipment – pumps

Debris removal pumps
Fish friendly wash water pumps

Dual flow band screens
Bar screens with coarse raking machines
Debris filters
Archimedes screw pumps
Bosker raking machines
Sluice gates and guides
We will also supply an impressed current system which protects the equipment from corrosion by sea water.
Building the largest drum screens
We are presently building the world's largest drum screens for this project. With a 27-metre diameter and 6.84 metres width, each drum screen will allow the water to flow at a rate of 43m3/second/screen. Once the four drum screens are in place, one for each tunnel, the station will receive the equivalent of one Olympic swimming pool of water per minute.
Due to their massive size, the drum screens will be assembled on site. This required a trial assembly of a quarter section of a drum screen. The section was built to validate the structure and ensure that tolerances were within the required limits.
Workforce Requirements
Due to the complexity and volume of work associated with this project, we are utilising resources throughout Ovivo to achieve a well-blended and experienced team. ''It started with a dedicated design team in April 2017 and the team now consists of 23 talented individuals split among our Ovivo offices in the United Kingdom and beyond'' said Jem Millard, the team's Senior Project Manager.
Project management and planning resource are located in our Wolverhampton and South Africa offices, engineering is in our Colchester office with procurement and QA/QC being managed from our Wolverhampton office. We also have a team of technical advisors who will be on site for technical support during the implementation of our inlet filtration equipment.
Although the design phase of the project is almost complete, the design team continues to be busy as it is looking into new nuclear station project bids.
We are proud to be a part of this project which is at the core of the UK's low carbon strategy. The Hinkley Point C Project is also being used as the basis of design for Sizewell C in Suffolk, UK, allowing the designers of that project to broaden their vision and incorporate hydrogen generation capacity into the site, for those times during the day that solar and wind are available to support the country's electricity demands. This, together with carbon capture measures, is intended to allow the site to operate on a net carbon negative basis.