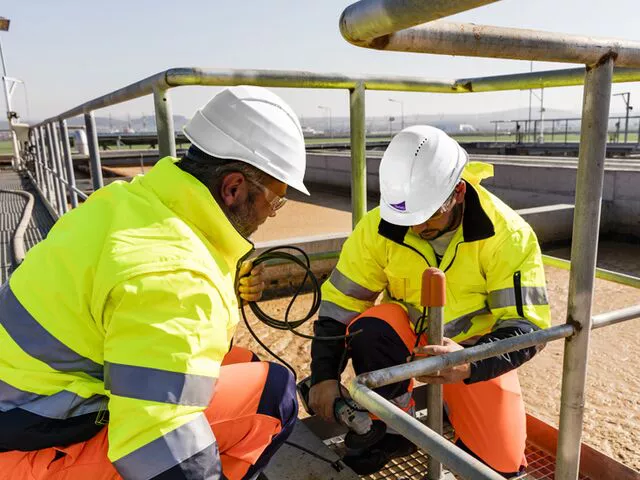 Company News
North American Service Network (NASN)
Reuniting the Ovivo name to the equipment & building relationships
Ovivo takes pride in providing a personalised and flexible service to our partners. We believe that this approach aligns with our fundamental belief in conducting business with integrity. To ensure our commitment to serving our partners, the Municipal Division launched an aftermarket service team in April 2021.
The North American Service Network (NASN) was developed with the goal of fulfilling three key objectives: building relationships with plants, sharing our technical expertise with plant operators, and ensuring constant product efficiency. We aim to establish strong connections with plants, providing them with a dedicated point of contact and personalised service. By sharing our technical expertise, we hope to empower plant operators with the knowledge and skills they need to optimise their operations and improve overall product efficiency.
Todd Baldwin leads the team. They are an extension of Ovivo's Product Groups and Reps by being their eyes and ears in the field. Todd has 30 years of experience in the wastewater treatment industry, working with numerous types of water and wastewater distribution systems which makes him the ideal person to lead our NASN team.
Our Field Personnel build relationships with every visit, taking the time to inform the operators on our products. Once the visit is completed, the Field Personnel ensures that the product managers receive the necessary information to complete a full diagnostic without having to send anyone else at the plant. This allows the product teams to concentrate on finding solutions when needed.
Our NASN initiative has been particularly valuable for our partners during the pandemic when institutional knowledge has been disrupted. Our visits helped build relationships with plant employees which lead to improving their productivity. ''These visits allow Ovivo to reconnect with plant employees and ensure that they have the tools they need to succeed. Many of these plants have not had contact with Ovivo employees or representatives for an extended period due to the pandemic, so these visits also serve to remind them that Eimco Water Technologies®, Dorr-Oliver, J+A, and Bracket Green® are all part of Ovivo.'' explains Todd.
Our commitment to serving our partners is an expression of our dedication to upholding our values. We are always looking for ways to enhance our service offerings and improve our partner's experience. NASN has all the systems in place to monitor and manage plant inspections and become the face of Ovivo in the field.