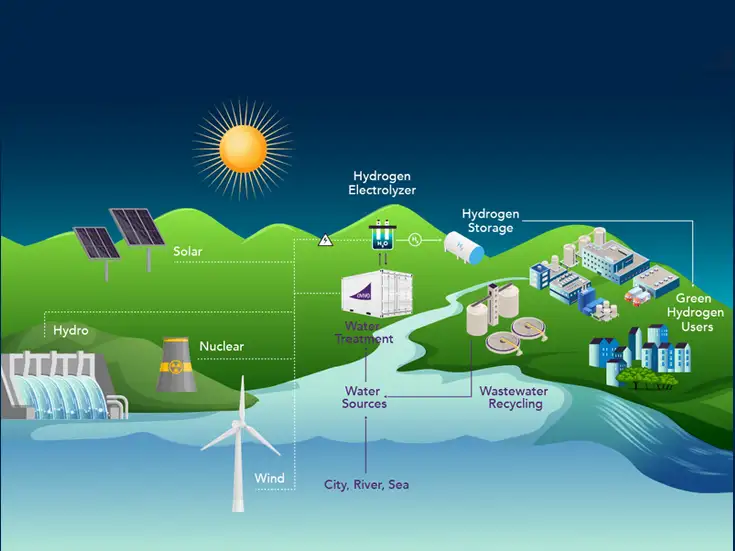 Company News
Hydrogen Pure Water Solutions
Adding value to clean energy
Hydrogen is praised as the future fuel of the EU and Ovivo is proud to lead the way in developing technology solutions for this new industry. Considered a clean fuel, hydrogen will deliver an abundance of carbon-neutral energy by 2030.
It's a recent concept to split hydrogen and oxygen in an electrolyser to produce clean hydrogen fuel for long haul freight vehicles, airplanes, steel production and domestic heating. Hydrogen production requires Ultrapure Water (UPW) to ensure that the performance and consistency of the reaction is maintained. Luckily, Ovivo is one of the world's leading suppliers of UPW and has been supplying expert knowhow to power plants since 1902.
''We treat water coming from a variety of sources including municipal water systems, rivers, and sea water to meet the manufacturer requirements before it enters the electrolyser so that it can produce H2 at its optimum rate. We also treat wastewater as a feed source creating a revenue stream while reducing disposal costs'' says Mick Ashmore, Business Development Manager at Ovivo UK.
Introducing a Deployable H2PW™ System
We've introduced our H2PW demineralisation system earlier this year which is meant to prepare the water going into the electrolyser. We are presently working on developing fully integrated packaged systems as container mounted units for several projects. Although this is a standardised unit that ships ready to operate, each H2PW system is a customised solution built to the plant's engineering specifications and water source. This ensures the best possible water quality while maximising the life span and efficiency of the plant.
Our clients know we have the technical capabilities to create their H2PW system and rely on our expertise to deliver the unit that simply needs to be plugged in on site. Our process engineers play a key role in customising each unit by selecting the right polishing systems using ion exchange or membrane technologies, and piping material from high grade steel, stainless-steel, titanium or plastic.
Reclaiming Wastewater
Ovivo also has the technology solution to reclaim wastewater created in the process. We can create a recirculating loop where UPW that has gone through the hydrogen process can be cleaned and recirculated into the system. The waste collected through this can then be used in the fertilizer sector.
A Growing Sector
The Ovivo Energy team is growing to meet the transitioning industry's needs. We have the operational side of the pure water business located in our Ovivo UK offices with engineering support from Ovivo Pune, India.
''It's nice to know that the energy companies we've been supporting for 20-30 years are trusting us to build these new plants. We have the skillset and manufacturing capability, and with our heritage brands, we have the product range to support this new industry.'' Says Mick Ashmore.