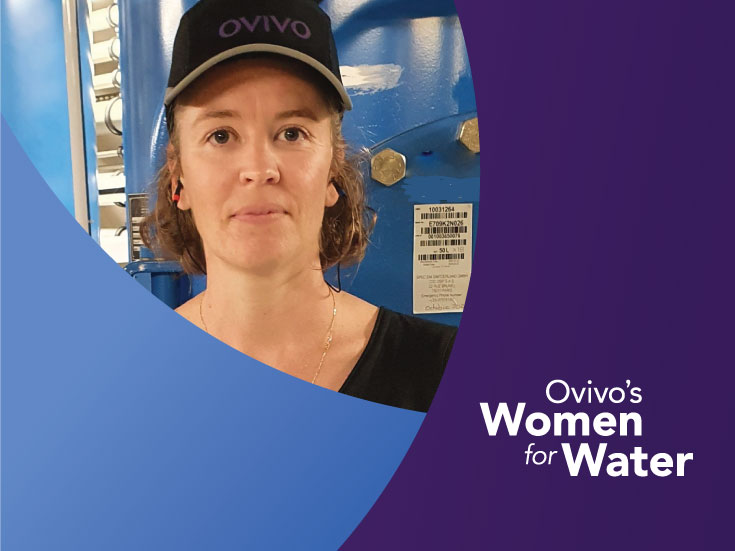 Company News
Ovivo's Women for Water presents: Valérie Quéau
Finding the Career Path that Fits You Best
Valérie Quéau always knew that she wouldn't enjoy a desk job, it just wasn't her lifestyle. She envisioned herself working out of a field office, carrying a toolbox, and doing manual work. She dreaded the thought of sitting around all day drawing plans on computers. Luckily for her, an encounter with an Ovivo France recruiter paved her way to a career she genuinely enjoys.
About Valérie
After successfully completing her Bac +2 in chemistry, Valérie continued her technical studies in engineering and obtained a bachelor's degree in Process and Environment, Production Management from the University Paul Sabatier Toulouse III. She could have gone on to work in the petrochemical, gas, or air treatment industries. However, as her studies and various internships progressed, she decided to work in the water sector. It was during her first interview at Ovivo that she discovered ultrapure water treatment, a niche area specific to the electronics, pharmaceutical and cosmetics industries, and was delighted at the idea of working in an industry that she considered "clean".
Her Career in the Water Industry
Valerie was hired by Ovivo France as an operations and maintenance technician at a client plant near their office, in the Grenoble area. After working there for 6 years, she moved to the south of France, in Rousset, and became Site Manager for another client . She managed a team of technicians and engineers who handled the operation and maintenance of the clients' water treatment plants which included ultrapure water, potable water, reclaim, wastewater, cooling processes and towers.
This remains one of her greatest challenges. It was a new client which meant that she had to hire a new team and work with completely different processes from what she knew. In addition, she had to work closely with the client to recreate maintenance schedules and operating procedures. But, most importantly, she had to take over equipment that was poorly maintained by the former servicing company.
After three years, she returned to the Ovivo France office in Bernin and developed a new position: Maintenance and Operations Methods Manager. A year later, she obtained the Quality, Health, Safety and Environment Manager (QHSE) position, which she has now held for four years. Her technical background is of great use in this position and gives her a better understanding of the issues at stake in the various departments of the company.
Although her new role is more of an office job, she does get to spend time out of her office on sites to ensure employees safety. She also oversees the progression of new employees in-house training. This helps managers adapt their training of recruits over the first 6 months.
''The production of semiconductors is a sensitive environment, so we must ensure that employees strictly follow our procedures. Ultrapure water is a very specific field and most of our processes are not part of any school curriculum. We have developed an in-house training to help new employees understand and comply with our processes."


When asked what advice she would give if she could see herself at the beginning of her career, she says without hesitation to trust herself. Valerie would have never imagined working for the same company for 14 years, but she is glad to have had the patience and commitment to stay at Ovivo.
''I feel as though my career progressed nicely at Ovivo. I was entrusted with positions of responsibility and, most importantly, I feel valued and rewarded''.


Valérie also feels fortunate to be working in an industry that is constantly evolving. Microchip production has progressed enormously over the last 14 years and Ovivo has been able to innovate to meet its clients' most stringent requirements. ''As our clients face new challenges, we provide solutions to reclaim water and optimise their plants.''
Valérie doesn't regret her decision to seek a job in the water industry, it absolutely fit her style. And she is happy to notice that she is not alone, finding more and more women specialising in her field and at Ovivo.