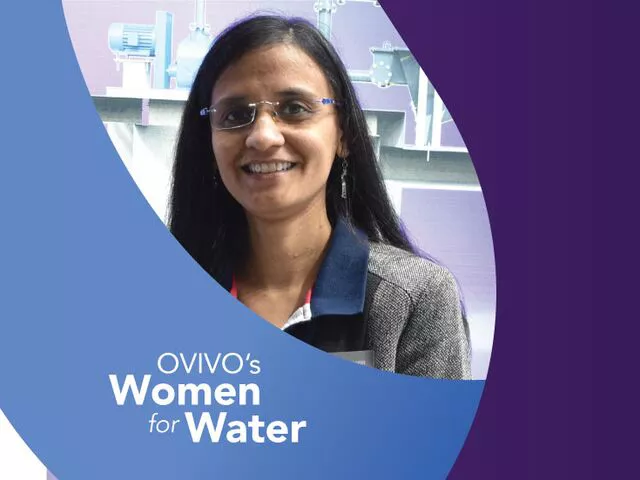 Company News
Ovivo's Women for Water presents: Tasneem Motorwala
A Successful Career – Approved by Mother Nature
If you ask Tasneem Motorwala what's the best perk of working at Ovivo, she will answer that she is helping Mother Nature while going about her day-to-day tasks! Tasneem is our Senior Process Manager at Ovivo India Pvt Ltd. located in Surat which is situated in the western Indian state of Gujarat. Ovivo India plays a key role as a process and engineering design support centre for both our Indian and North American municipal and industrial wastewater treatment solutions.
About Tasneem Motorwala
Tasneem has a master's degree in environmental engineering technology from the National Institute of Technology in Surat. She recalls finding her calling in the final year of engineering as she was choosing her speciality subjects.
Environmental engineering studies encompasses water, land, and air resources. It deals with the management of these resources to minimise environmental pollution and degradation. Tasneem studied waste management, both solid and wastewater, air pollution and its control options, and environmental legislation in India.
Her Career in Water
Tasneem has been working in water/wastewater industry for 15 years now. She has been with Ovivo since 2011 and feels incredibly happy working in our Surat office. She began as a Process Engineer, designing mostly MBR (Membrane Bioreactor), MBBR and IFAS systems, Grit removal systems, etc. Working at Ovivo was different from her previous work as she was no longer simply proposing systems, she was now representing the manufacturer of the equipment and designing the whole concept behind the equipment and therefore the system.
That's what enticed her to join Ovivo, she got to learn how to design "the equipment" for "the biological systems". Not only would she design the biological equipment, but she would also help in the installation and maintenance. Tasneem is now Senior Process Manager, leading a team of five engineers and absolutely loves her job. Her team gets to experience the complete cycle: design, execution, and, the ultimate step, operation.


If she could go back and give some advice to her younger self, without a doubt she would say not to get hung up about getting the highest grades at school. The best advice she can give to someone starting a career in the water industry is to expect to make mistakes and to learn from them.
Tasneem feels right at home at Ovivo. There's a great working atmosphere, employees get a good amount of autonomy and there are great interactions with clients. And let's not forget, while selecting the most sustainable and economical approach to treat wastewater, she is helping Mother Nature.