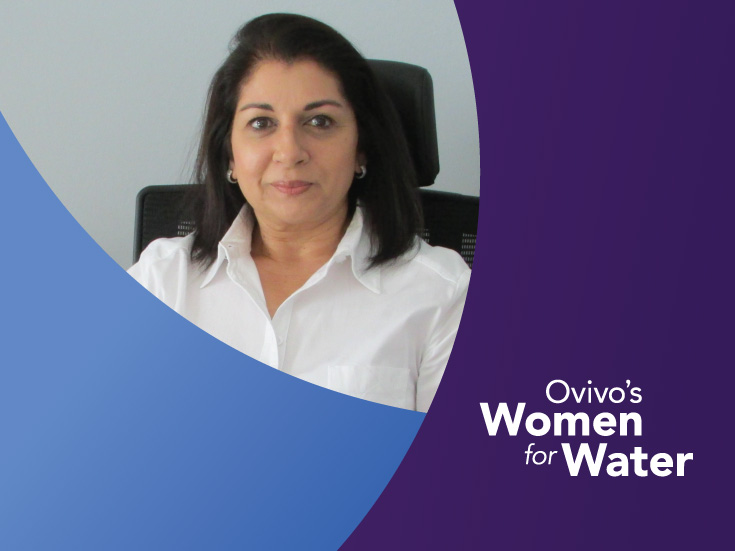 Company News
Ovivo's Women for Water presents: Surehka Seeth
A Career in Water Treatment That Continues to Amaze and Fulfil
Surehka Seeth realised that water is a crucial resource that is becoming scarce when she began her career as an engineer in South Africa. This realisation was an important milestone that led her to find her own career path in the water treatment industry, a field that continues to amaze her with its evolving technology and efficient processes.
"As I became more involved in water treatment, I realised that it is not just about being able to drink clean water from a faucet. Water is an integral part of the production process of nearly every product as it is needed either for washing or an ingredient for the product itself. I came to understand that there are many different facets to water treatment and that it is a complex field with endless possibilities for exploration and learning.''
About Surehka Seeth
Surehka earned a diploma in chemical engineering and gained experience in the iron and steel industry, where she was responsible for managing the water quality and chemical dosing in the process water plants. This encounter with water treatment sparked her interest in the field and motivated her to shift her focus from chemical engineering to process engineering. From South Africa, Surehka worked on water treatment projects in Mauritius and Europe for international companies.
Her Career in Water
Surehka began working at Ovivo 12 years ago as a project engineer on the water treatment equipment of power plants. She immediately became involved in project management, focusing on the desalination systems of coal fired and solar power plants. Other than project management, she gained a wide range of experience which includes compiling of tenders, design, procurement, quality management, after-sales services, and financial control.
Surehka is currently the Project Director at Ovivo Aqua Africa based in South Africa. She managed the implementation of a desalination plant and later a condensate polishing system in a major South African power plant. She is now assisting Ovivo UK in project management and getting involved in the different technologies in the water treatment plants. She enjoys working with the UK office as it allows her to expand her knowledge on the various equipment used on the water treatment and filtration systems for nuclear power plants, while contributing to sustainable and socially responsible practices through good ESG initiatives.


Surehka's best advice for someone starting a career is to remember to take time to step back and ensure that there is a balance between work and rest. When she first started out as an engineer, she felt like she had to put all her time into work and rarely took a break for herself. However, she later realised that a balance between work and rest leads to increased efficiency and overall success. And after more than a decade at Ovivo, she still finds her work both challenging and rewarding.
''There is so much to learn in the field of water treatment. That's what drew me to it, along with the constantly evolving technology. The various processes and the ways in which they are becoming more compact and efficient are fascinating. Water is such a crucial resource and it's becoming more scarce, so the work we are doing now is focused on utilising all available water so that it can be reused. It's a field that is constantly changing and in great demand, that's what makes it so interesting to me.''