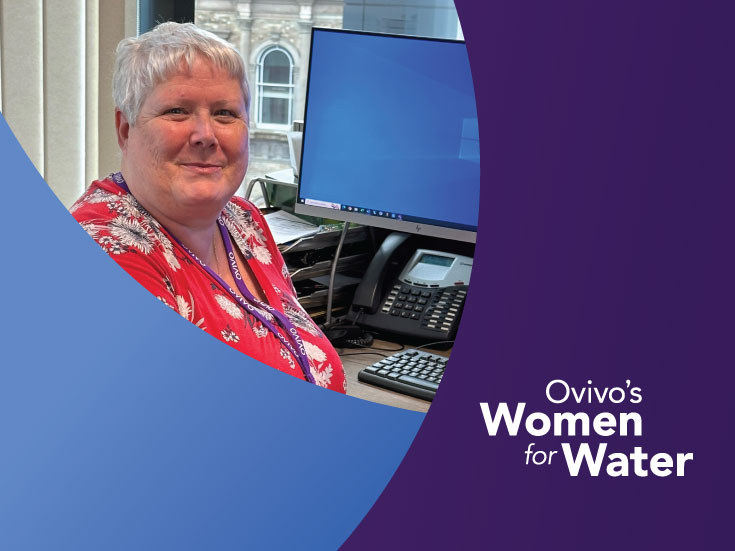 Company News
Ovivo's Women for Water presents: Ruth Baker 
Navigating the Complexities of Procurement in the Water Treatment and Energy Industries
Ruth Bakers' career path has led her to become a Procurement Specialist at Ovivo UK, a vital role in ensuring the success of critical projects in the water treatment and nuclear energy industries. With a wealth of experience and a passion for her work, Ruth navigates the complexities of procurement  with an emphasis on collaboration and quality control.
About Ruth Baker
Ruth's passion for procurement emerged when she was given the opportunity to fill in for a departing buyer at an engineering company. She was instantly drawn to the dynamic nature of the field as it offered diverse challenges and rewarding experiences. She pursued a three-year certification program at the Chartered Institution of Purchasing and Supply while working full time to obtain the MCIPS certification. Over the past 30 years, Ruth has explored procurement roles in various industries, including food processing and automotive, but has specialised in nuclear procurement since 2006.
Her Career in Water
Ruth is a Procurement Specialist at Ovivo UK, supporting the company in nuclear projects. Her knowledge and expertise are invaluable to ensure the successful completion of several water treatment solutions in nuclear power plants. ''Nuclear procurement is quite different. Rather than mass-produced items, nuclear projects typically involve custom-designed components'', explains Ruth. Her vast experience with singular orders allows her to adopt a unique perspective, weighing factors beyond cost alone. Through meticulous analysis of quotes, she selects suppliers that align with project requirements while upholding quality standards.
Each purchase involves a unique procurement process requiring Ruth to work closely with the supplier. She acquires the necessary pre-manufacture documentation, then works with suppliers to ensure they maintain their delivery programme throughout the manufacturing stage. She ensures seamless communication by bridging the gap between suppliers and internal stakeholders, addresses any technical queries and meets project specifications. Her ability to liaise effectively with various teams ensures the smooth flow of information and contributes to the project's success.
As the world moves to prioritise clean water and sustainable energy, professionals like Ruth are invaluable assets driving innovation and progress. Through her commitment to excellence, Ruth ensures the smooth execution of critical projects that hold a significant impact on society