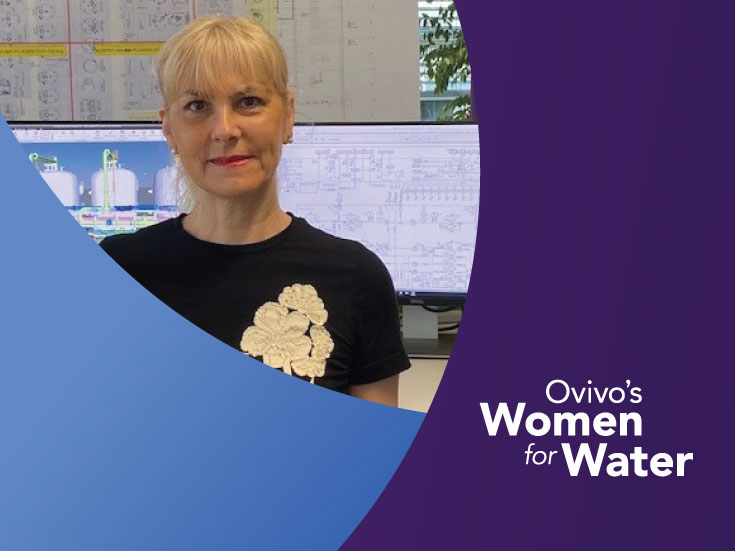 Company News
Ovivo's Women for Water presents: Karin Müller
A CAD Journey: From Classroom to Ultrapure Water Treatment Plant
With over 20 years of experience as an instructor of engineering for vocational training and advanced training for computer-aided design (CAD) and computer-aided manufacturing (CAM), Karin Müller's career took an exciting twist when she embraced the opportunity to join a consulting firm to create CAD designs. Since then, she plays a vital role in the management of the piping and instrument diagrams (P&IDs) when customising water treatment plants (UPW, WWT) for the semiconductor industry.
About Karin Müller
Karin was born and raised in Germany. Growing up with siblings who were constantly fixing radios, bicycles, and motorbikes, she developed an interest in mechanical systems and problem-solving. After completing her professional training as a design draughtsperson of engineering and her bachelor of engineering studies, she began teaching CAD/CAM.
In 2006 she seized the opportunity to put her CAD knowledge to work in a planning office for industrial facilities. She was sent as an external project support to Ovivo Switzerland where she encountered the intricate drawings and layouts of water treatment plants. That's when she realised the scale of the challenge ahead and dedicated herself to learning the nuances of ultra-pure water treatment. Sure enough, what was supposed to be a five-month placement turned into a full year at which point, in 2007, she relocated to Switzerland and Ovivo hired her full time.
Her Career in Water
Karin is a CAD engineer at Ovivo Switzerland and prepares the P&IDs for the construction, commissioning, and operation of the water treatment plants. Along with three 3D designers, their focus is to develop UPW and WWT plant drawings that provide the precise quality and quantity of water for semiconductor manufacturing processes.
The design team creates the P&IDs, the 3D modelling of all process units, the arrangement drawings, the plan layouts and space management using the AUTOCAD Plant 3D software. These drawings are crucial communication tools, ensuring the smooth transfer of information among the process engineering, mechanical engineering, electrical & control system teams, project management and construction team. The P&IDs and 3D constructions contain metadata about plant components and pipe routings that can be used to retrieve manufacturing information and ordering codes, streamlining the procurement process.
Karin embraces the challenge and enjoys the opportunity to contribute to the success of each venture. While she primarily focuses on projects in Switzerland, Karin has also been involved in global initiatives, collaborating with engineers and designers from different countries, including Singapore, Netherlands, Austria, Germany, and the US.
For Karin, the satisfaction of her work stems from both her expertise and her collaborative spirit. She acknowledges the importance of teamwork and the mutual support she receives from her colleagues. Despite the demanding nature of the job, Karin appreciates the positive and fun working atmosphere within the project execution department. The trust, camaraderie, and shared commitment to success have allowed the team to overcome challenges and achieve exceptional results.