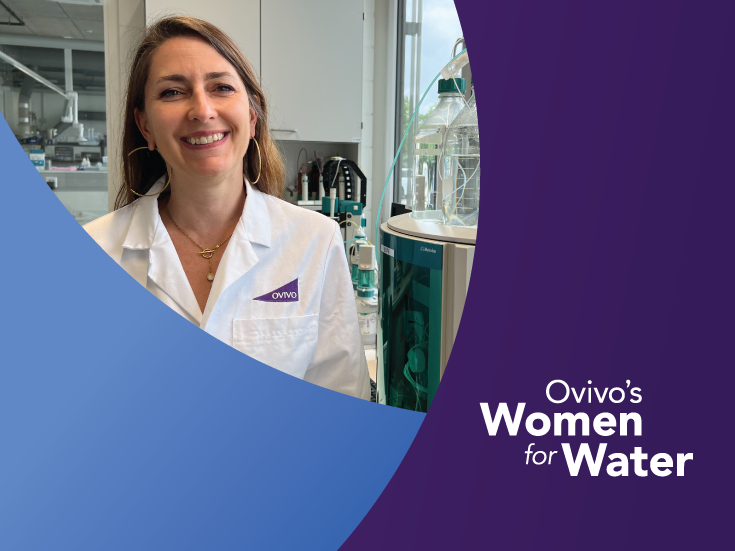 Company News
Ovivo's Women for Water presents: Karen Petitdemange
Mastering the Science of Analytical Chemistry for Ultrapure Water Quality
Based in Switzerland, Karen Petitdemange is a respected member of the innovation team. With her chemistry background and unwavering passion for her work, she has embarked on a rewarding journey in the field of water treatment for the electronics industry.
About Karen Petitdemange
Driven by her desire to work in the pharmaceutical industry to find cures for diseases like cancer, Karen chose chemistry over biology as she felt it suited her profile best. She obtained a DUT in Chemistry which led her to work in organic chemistry. For the first 15 years, she contributed to the development and synthesis of chemical compounds for pharmaceutical industries. She then decided to transition to analytical chemistry, which consists in identifying and characterising chemical substances present in different type of samples. Her determination and willingness to learn in the field of analytical chemistry set her on a new professional path in Ultrapure Water treatments at Ovivo.
Her Career in Water
As a Senior Laboratory Technician in the Knowledge Centre in Witterswil, Karen plays a vital role in water treatment for the electronics industry. Her responsibilities involve analysing various water samples for internal projects as well as for joint service for other Ovivo entities. Karen's thirst for knowledge and her ability to understand and explain the intricacies behind the analyses make her a great asset to the team.
To young professionals contemplating their career paths, Karen's advice is simple yet powerful: pursue what you love. With passion, ambition, and commitment, you can create a fulfilling and meaningful journey. Karen finds immense satisfaction in her work, going beyond sample analysis as she actively engages with engineers to gain insights into the broader context of their projects.
''Finding my passion in chemistry has been a journey of discovery. From synthesising molecules for potential pharmaceutical breakthroughs to analysing water for Ultrapure Water, every day brings new challenges and opportunities to learn'' explains Karen. Her story is a testament to the importance of pursuing what you love. With dedication and a thirst for knowledge, you can overcome obstacles and find fulfilment in your chosen path.