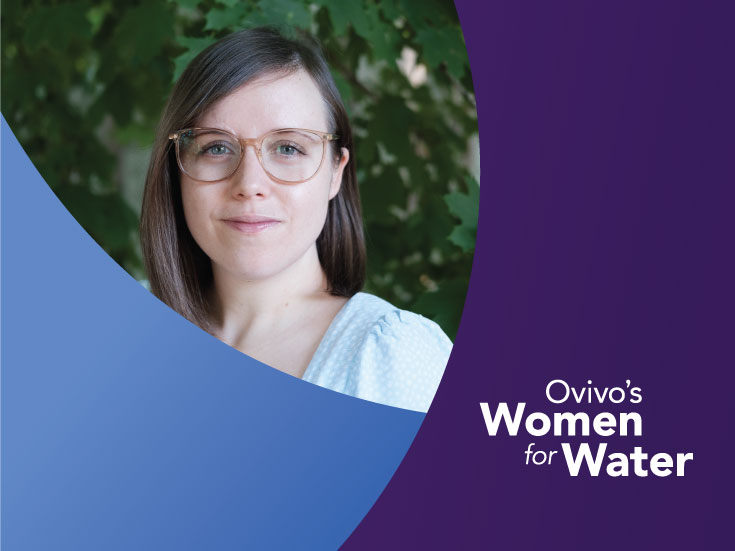 Company News
Ovivo's Women for Water presents: Joanna Gogovita
Driving Success One Project at a Time
Growing up near one of the five North American Great Lakes, which represent 19,000 square kilometre of freshwater, Joanna Gogovita could not imagine a world with water scarcity. The subject wasn't even brought up in her years studying to be a Chemical Engineer. It was when choosing her field of work that she discovered this reality.
About Joanna
Joanna earned her bachelor's degree in Chemical Engineering at the University of Toronto in 2011. Studying chemistry, mathematics, and biology allowed her to understand the design and operation of industrial plants as well as methods of improving processes. After graduating, there were many positions available in the oil & gas industry, but her environmental conscious led her to prefer the water industry.
Her Career in Water
Joanna began as an Applications Engineer with FilterBoxx in 2013, working with diverse types of membranes for process water and drinking water solutions. When Ovivo acquired FilterBoxx in 2018, Joanna was introduced to ceramic membranes, and she was ecstatic to develop her knowledge. ''Having FilterBoxx, Cembrane and Ovivo amalgamating and sharing knowledge, sets the pace for a powerhouse execution team'' says Joanna. She was promoted shortly after to Project Manager and was responsible for managing projects from the moment they're sold to ensure a smooth transition from designing, purchasing, fabrication and commissioning in the field.
Joanna finds it gratifying to be a part of wastewater treatment projects, from concept to the successful operation of the plant. Her most recent success being a retrofit & upgrade project. FilterBoxx had originally set up polymeric membranes in 2013 which had reached the end of their life cycle and were to be replaced with our latest silicon carbide (SiC) membrane while upgrading to 475,000 gpd. ''The plant couldn't shut down for any length of time which meant installing all the new membranes over two weekends, while being able to keep up with production during the weekdays. Overall, many people were involved in the project and the conversion and upgrade were a success", recalls Joanna.
The best advice she can give to someone starting a career in the water industry would be to have more confidence in one's abilities and to not be afraid of making mistakes. Getting out of your comfort zone is a great learning experience.
Joanna continues to enjoy the satisfaction of finding solutions to today's water problems, from turnkey modular water and wastewater solutions to massive wastewater treatment retrofits. Her drive and eagerness to learn helps her develop her skills, one project at a time.