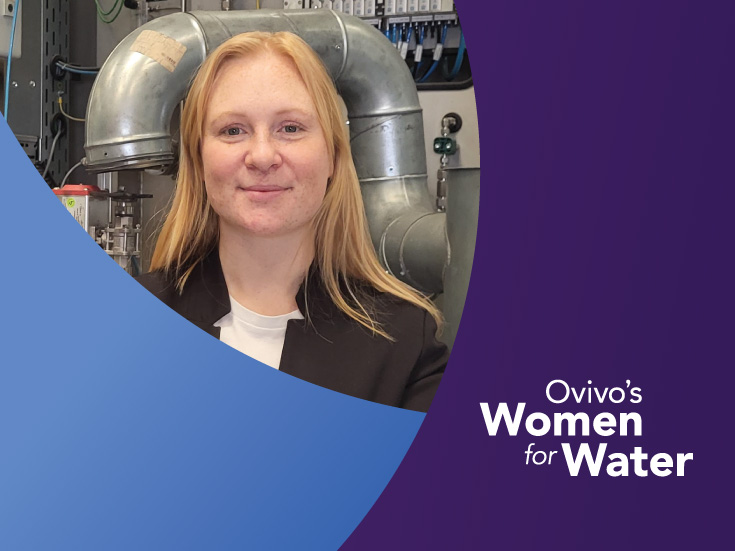 Company News
Ovivo's Women for Water presents: Henriette Binderup
An Interdisciplinary Approach to Engineering
Henriette always knew she wanted to be an engineer. She was inspired by her mother, who is also an engineer, and learned from her that engineering is much more involved than working on a computer. What makes Henriette stand out is her unique perspective on engineering. She sees engineering as a discipline that encompasses all others. In order to be a good engineer, she believes that one must have strong communication skills, a business perspective, creativity, and the knowledge of natural sciences.
About Henriette Binderup
Henriette holds a bachelor's and a master's degree in environmental engineering. Her passion for water started late in her academic career when she took a hydrology course. Her initial focus was on nanotechnology. While taking her hydrology course, she came to the realisation that although nanotechnology is fascinating, it did not instil the same sense of purpose. Water treatment is a necessity for all people, regardless of their socioeconomic status. From the poorest communities to pharmaceutical and semiconductor manufacturers, everyone needs access to clean fresh water.
''My goal in the water industry is to create the best possible product that is sustainable and accessible to as many people as possible'' explains Henriette.
Her Career in Water
Henriette is currently Engineer & Product Manager, R&D at Cembrane, in Denmark. She started working at Cembrane as a student assistant, focusing on health and safety in the workplace. Once she completed her studies mid 2022, she joined the company full time. She now heads the local engineering function of the silicone carbide membranes (SiC) production and oversees its quality control, while ensuring good ESG practices.


Her advice for those starting a career in the water industry is to have a well-rounded skill set and a broad knowledge base to facilitate communication with others.
Henriette is relatively new to the water industry, but her multidisciplinary approach to engineering, her passion for water and her dynamic personality make her stand out. Her goal of improving the water industry and making engineering more fun and creative highlights her drive and ambition.
''I believe the marketing of engineering needs to improve to attract a wider range of people to the field, as it is not just staring at a computer all day but a fun, creative, and colourful field.''