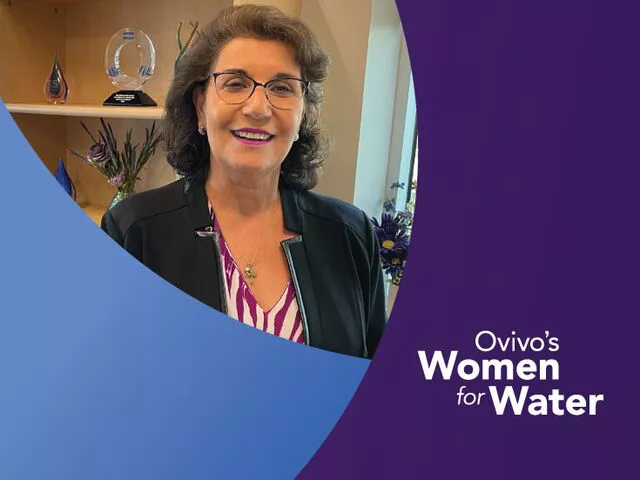 Company News
Ovivo's Women for Water presents: Elena Bailey
Celebrating 35 Years in the Industry
Elena Bailey was born and raised in Cyprus, a Greek island nestled in the eastern Mediterranean Sea and home to some of the oldest water wells in the world. She grew up surrounded by water but with the constant fear of not having freshwater available. She loved imagining a life where water would not be expensive and readily available out of a faucet.
Elena originally wanted to become an engineer to design bridges. It was her father, a seasoned businessman that had travelled extensively in Europe, who kept on telling her to focus on water treatment instead as it was the future. And thanks to his vision, she is now celebrating 35 years in the water industry.
About Elena Bailey
At the age of 15, she chose to pursue her studies in the vocational high school that specialised in science. She recalls being a part of the first group of women to join this school. Having no university in Cyprus, she had no choice but move abroad to study engineering.
That's how Elena moved to Stillwater, Oklahoma, where she obtained her bachelor's degree in civil engineering followed by her master's degree in environmental engineering. Her thesis was sponsored by a wastewater treatment company called Enviroquip® located in Austin, Texas. Two weeks before she was to fly back home, she met with the president to give him a leather bounded copy of her thesis as a thank you for the opportunity to research their technology. During the meeting, she was offered a six-month contract that has turned into 35 years of dedication and hard work.
After six years at Enviroquip, she became a company partner where her drive and passion continued to soar. In 2006, the company was sold to Ovivo and Elena was appointed Global Director of Technology and Sustainability. This position allowed her to travel the world to see how each country approached water needs and sustainability.
Mentoring a New Generation for Careers in the Water Industry
Elena has had the chance to mentor many people who showed talent and drive for excellence. She has also developed a passion for coaching people on how to become good public speakers. It began in 1997, when she started a series of national workshops that continue to grow over the years to 20 national workshops and over 100 regional workshops.
When asked what advice she would give to a woman starting in the industry today, she answers: ''expect to work 150% harder than men to be considered equal''. It was the only way she was able to succeed. But she truly hopes that it doesn't have to be the case today, so she quickly adds: ''Work on something you have passion for and get your hands dirty. You can learn science and strategy but without passion your development and success will be limited.''
Her Career in Water
In 1997, she took the lead in developing a new process with Dr. Glen Daigger for which they were recipients of the prestigious Harrison Prescott Eddy Medal award from the Water Environment Federation in 2001. The medal is awarded for research that makes a vital contribution to the existing knowledge of the fundamental principles or process of wastewater treatment. She has also contributed to 7 patents, co-authored 5 books, and collaborated in many other Design and Operation Manuals in Wastewater Treatment.  Her leadership and expertise earned her wide recognition in the water industry.
Elena currently holds the position of Business Development Director of Ovivo North America Municipal and Industrial division. We are fortunate to have her on our team, for her knowledge, her drive, and mentoring abilities.
''I am very happy to say that every day continues to be exciting and fun! I love working with innovative projects and technologies.''