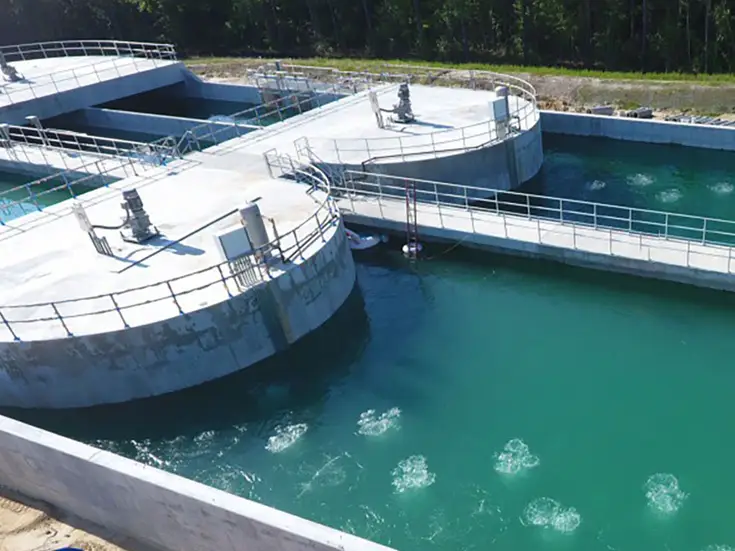 Company News
Ovivo and EnviroMix Set a New Standard with Exclusive Partnership
CHICAGO, OCTOBER 2nd, 2023
Ovivo and EnviroMix are proud to announce their strategic and exclusive partnership for Carrousel® projects. With Ovivo's extensive experience and esteemed reputation in advanced water and wastewater treatment solutions, combined with EnviroMix's revolutionary mixing technologies, this collaboration marks a significant breakthrough in delivering exceptional treatment capabilities for the water industry.
The partnership between Ovivo and EnviroMix began in 2016 when they successfully collaborated on an innovative solution for the Beaufort Jasper Water and Sewer Authority Hardeeville WWTP in South Carolina. Capitalizing on this success, the two companies further solidified their relationship by teaming up for the City of Starke WWTP project in Florida, setting the stage for this exclusive partnership and market distribution agreement.
As part of this agreement, Ovivo will integrate two cutting-edge EnviroMix technologies, BioMix™ and BioMix-DC™ Enhanced Anaerobic Mixing, into its Carrousel BNR market solutions. These innovative technologies will empower Ovivo to offer integrated solutions that combine the mechanical, electrical, and BNR process benefits of EnviroMix mixing technologies.
BioMix Compressed Gas Mixing Systems, featuring precisely engineered nozzles near the tank floor, ensure unparalleled uniformity in mixing tank contents by delivering short-duration bursts of compressed air. With its centralized compressor system and self-cleaning, maintenance-free, and non-clogging components, BioMix transforms plant operations with its simplicity, minimizing maintenance requirements and maximizing energy efficiency.
EnviroMix's BioMix-DC Enhanced Anaerobic Mixing Systems, recognized with the prestigious 2022 Water Environment Federation Innovative Technology Award, optimize biological phosphorus removal. By transforming a conventional anaerobic selector into an intensified fermentation tank, BioMix-DC alternates short mixing cycles with long deep cycles to enhance process efficiency to unprecedented levels.
"We are thrilled to witness two exceptional leaders in process solution technology coming together to deliver an integrated, streamlined solution that will revolutionize the industry and benefit all stakeholders," said Dave Lauer, CEO of EnviroMix. "Customers will now have access to the best technologies in a cost-effective manner, backed by single-source process responsibility."
"We, at Ovivo, believe that this strategic partnership with EnviroMix will elevate the treatment capability of our Carrousel systems to the next level," said Hiren Trivedi, Vice President of Ovivo. "There are untapped opportunities that we expect to harvest with this strong partnership with EnviroMix. They are more than a mixing company, and we both share the vision of a long-term collaboration. Our customers will benefit from more sustainable process solutions reducing energy and chemicals for biological treatment as well as reducing nitrogen and phosphorus discharge loadings to meet effluent limits."
About Ovivo Inc.
Ovivo is a global provider of equipment, technology and systems producing among the purest water and treating some of the most challenging wastewater in the industry. Ovivo is a powerful global brand with renowned trademarks, possessing more than 150 years of expertise and references in water treatment, supported by its proprietary products, advanced technologies and extensive system integration knowhow. Ovivo delivers conventional to highly technological water treatment solutions for the industrial and municipal markets, and leverages its large installed base of equipment around the world to offer parts and services to its customers. Ovivo is dedicated to innovation in an industry that is in constant evolution and offers water treatment solutions that are cost-effective, energy-efficient and environmentally sustainable.
Headquartered in Montréal, Canada, Ovivo operates an integrated global platform in 18 countries and employs close to 1,400 worldwide experts in water treatment. Ovivo is owned by German SKion Water GmbH, a global technology and solution provider as well as plant manufacturer, in both municipal and industrial water and wastewater technology. SKion Water is a subsidiary of German entrepreneur Susanne Klatten's investment holding SKion GmbH. For more information about Ovivo, visit the website: www.ovivowater.com.
About EnviroMix Inc.
EnviroMix is a leading provider of advanced mixing technologies, revolutionizing the water industry with its highly developed solutions. Their elevated mixing systems deliver outstanding performance, reliability, and energy efficiency, allowing clients to optimize their treatment processes and achieve exceptional results. With a focus on innovation and sustainability, EnviroMix empowers water treatment facilities to surpass performance goals and meet industry demands. Visit www.enviro-mix.com to learn more."
FOR INFORMATION
Sergio Pino-Jelcic
Product Group Manager
Ovivo Inc.
sergio.pino-jelcic@ovivowater.com
Dave Lauer
Chief Executive Officer
EnviroMix Inc.
dlauer@enviro-mix.com