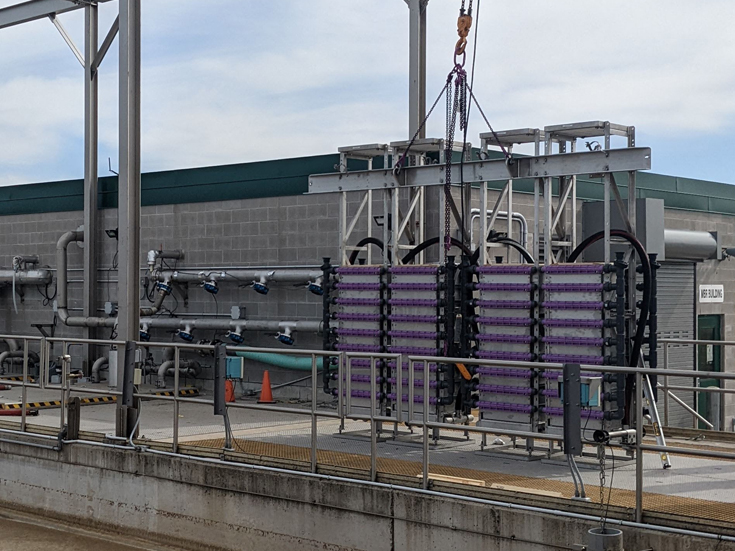 Company News
A Sustainable Solution for High Quality Effluent
SiC MBR System delivers the highest effluent water quality in the protein recovery sector of the food and beverage industry
In 2013, FilterBoxx, an Ovivo company, was the nominated supplier to deliver a membrane bioreactor (MBR) system to a rendering facility located in Ontario, Canada. The MBR system achieved the desired flow and effluent targets for several years until the facility began regularly running over capacity. The operating flow rates were also occasionally higher than the design capacity of the plant. This caused the polymeric membranes to reach the end of their life prematurely.
To address the client's current flow rates and future projections, we redesigned their wastewater treatment system using silicon carbide (SiC) membrane. Although several options were presented, the SiC MBR system was deemed the best solution as it was both economically viable and sustainable.
''The client preferred SiC membranes because they repel oil and grease, require less maintenance, and have a longer life expectancy than polymeric membranes'' explains Roland Lamoca, North American Sales Director. ''SiC membranes also increased plant capacity by 66% without having to change the footprint. We added the membranes needed to meet future capacity within the same footprint, and simply added larger permeate back pulse pumps to pull more flow through the SiC membranes.''
Optimising Production, Maintenance, and Inspection
David Brink, Wastewater Process Engineering Manager, played a key role in the design optimisation of the new system. He analysed the configuration to optimise the number of stacks, which included the careful review and orientation of the SiC membranes. Each train holds 16 stacks of SiC modules, which were customised into four quad groups, for a total of 32 stacks (288 modules), suspended from the top of the concrete tanks.
Creating customised quad groupings allowed us to take advantage of the width of the existing membrane tanks and the capacity of the existing overhead crane. It also optimised future inspection and maintenance processes as the plant operators would only have to remove four separate units per train instead of 16. Since the membranes are hung from the top of the tank, the operators do not need to drain the membrane tank when lifting the membranes for inspection.
Retrofitting Without Any Interruption of Plant Operations
Joanna Gogovita, the Project Manager, orchestrated the retrofit so that it would take place without disrupting the plant's production schedule. ''Since the plant had two parallel sets of tanks, we organised the retrofits over two weekends, changing one train at a time'' explains Joanna. Making the changes in two stages minimised downtime for the plant and no wastewater was diverted.
One Satisfied Client
Since the installation of the new system, the client is more than pleased. The SiC membranes are providing the permeability required with improved sludge characteristics while keeping up with the capacity of the wastewater coming through.
Having achieved the upgrade within the same footprint and converting to SiC membranes that are durable and reliable allows the client to obtain a sustainable solution that delivers high quality effluent that not only meets but exceeds target requirements.