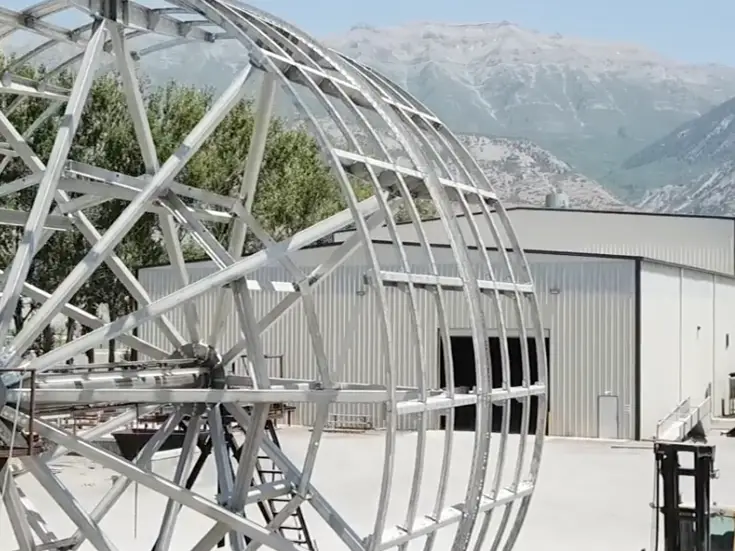 Nouvelles
Building the largest drum screen in North America
Building the largest drum screen in North America
Ovivo was the nominated supplier of a large regional waste water plant in California to produce the Brackett Green® Double Entry drum screen to be installed between the clarifiers and the large chlorination and UV disinfectant system. The process took about five years to complete and included engineering, designing, fabrication and shop testing in Salt Lake City. The system has been running for a few months after a short installation period and is now considered not only the largest drum screen in North America, but also the heaviest. Measuring 36 feet in diameter and 20 feet wide, the drum screen and supporting equipment can sustain a high level of seismic activity.
The drum screen is a small part in the entire project, but it plays an essential role. The plant preferred our solution as it featured the Brackett Green® Drum Screen that is considered the most reliable technology for large flows with a high-performing capture rate. It can screen 343 million gallons per day, the equivalent of certain parts of the Sacramento River's daily flow, catching debris and directing it onto Ovivo's dewatering equipment and into a dumpster.
Looking Through the ESG Lens
The footprint of the Brackett Green® drum screen installation is relatively small for the size of the flow that it is processing in comparison to other technologies. ''With other solutions, the plant would have needed between 5 and 10 separate systems to accomplish the same throughput of flow'' explained Jared Holindrake, Project Group Manager. The Brackett Green® Drum screen is also energy efficient as it only needs a small electric motor to drive the entire system as the drum rotates from its perimeter.
''It's quite an achievement and most definitely a great team effort. With Abner Aviles as Senior Project Engineer and Steven Gates as the Senior Controls Engineer, we had a lot of detailing done in our Salt Lake City and India offices'' says Jared. This technology can be used in other situations such as industrial and power systems, municipal headworks, river and ocean intakes.