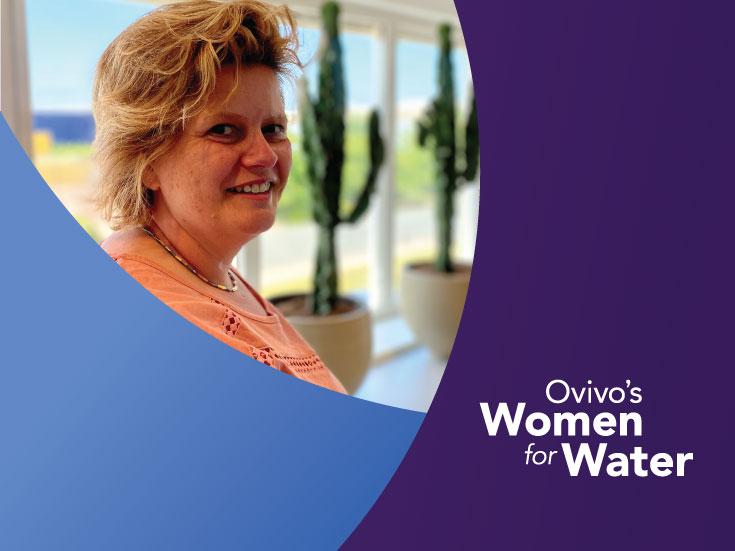 新闻
Ovivo's Women for Water presents: Astrid Kloosterman 
Career Progression Through Adaptability and Education
Choosing a career path can be a daunting task, and it's not uncommon for people to change their minds before discovering their true aspiration. However, staying determined to find your passion is essential to finding the career you will love. Astrid is a great example of how a person can find their true calling and choose to pursue their education even when working full time and raising a family. Her decision was life-changing and allowed her to find purpose in her work.
About Astrid Kloosterman
Astrid started accounting studies without completing her degree. Nevertheless, she was able to leverage her accounting knowledge to work in various companies. Through the years, she worked several types of jobs, from customer service to sales, before landing a role in procurement and finding that this suited her best. Astrid realised she needed more knowledge and returned to school for her procurement degree. It took a little over a year to complete while working full-time and raising a family.
Her Career in Water
Her determination paid off when she landed a job at Ovivo Holland as Tactical Buyer. Her position involves creating purchase orders, arranging shipments, and negotiating better terms and conditions. Ovivo Holland specialises in making customised water treatment solutions for European customers in the electronics, pharmaceutical and life science industries. They also collaborate closely with Ovivo France, Ovivo Austria, Ovivo Hungary, and Ovivo Switzerland.
Although Astrid was not familiar with the water industry, she was accustomed to working with engineering-focused companies. Astrid works with a great team to ensure that each customised skid receives its specific products within the desired time frame, based on its technical specs. Many of her colleagues have 20+ years of service which speaks volumes about the company's culture and values.
Astrid feels that her work allows room for personal growth. She also finds it rewarding that Ovivo Holland provides water treatment solutions to healthcare facilities that can be used for applications such as injections and dialysis. She says, "It's nice to know that my work helps make a difference for people needing dialysis treatment while they wait for a kidney transplant."
Astrid's journey is an inspiring story of hard work and determination. Her story shows that there is always room for growth and development, and one should not be afraid to take on new challenges, even going back to school, to reach new opportunities.