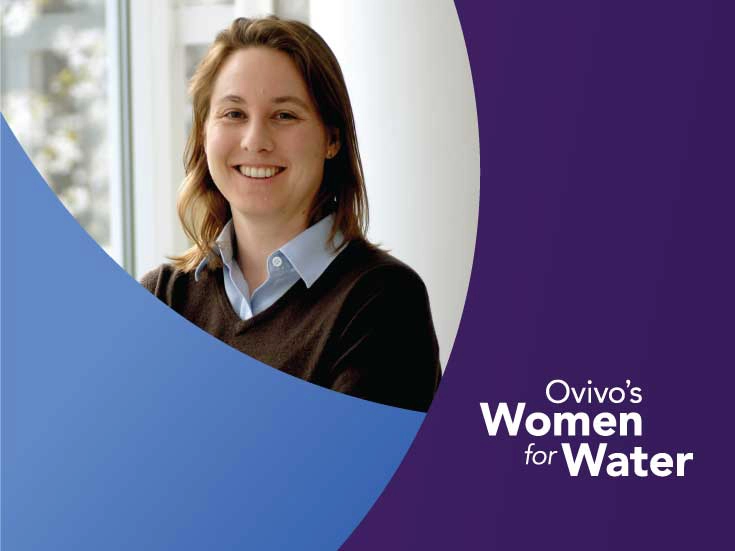 Nouvelles
Ovivo's Women for Water presents: Ursula Boehm
Finding Purpose and Meaning
Ursula Boehm's fascination with technology started at an early age with an interest in Mechanical engineering. It would be a series of events that would lead her to the water industry and to becoming a member of Ovivo's Board of Directors.
About Ursula Boehm
Ursula earned her MBA and a degree in Mechanical Engineering. She wasn't sure what she wanted to do in life and felt that earning these two degrees would create opportunities. It was during an internship assignment in a chemicals plant that she learned about wastewater treatment. She was part of a team that tackled the cleaning of the soil and groundwater around the factory. That's when she realized she wanted to work in wastewater management.
''I was amazed to see the multi-disciplinary team involved in the planning of the clean-up: mechanical engineers, chemical engineers, biologists, etc…. It was great to see so many disciplines working on a common goal. I also understood how much we rely on water in everything we do'', recalls Ursula.
Her Career in Water
Ursula started working for a German multinational corporation specialising in energy, healthcare, and infrastructure. She believed that water was too important to neglect and pursued her career with the intention of working around the world, but solely in the wastewater treatment sector. Ursula held many positions, such as Vice-President of Global Sales and General Manager, and worked in many countries in South America, Europe, the Middle East, and Asia.
After 14 years of working in the water, wastewater, industrial equipment, and services industries, as well as Internet of Things (IoT), she decided to start her own consulting firm in the States. With her deep knowledge and expertise in these fields, she has successfully assisted firms with major deals, as well as provide significant support to top-tier companies and start-ups on a variety of projects.
SKion believed she could bring a wealth of knowledge and experience as an Ovivo board member and invited her to join the Board in 2021. Her role includes overseeing the organizational governance of the company and ensuring that its strategic and operational goals are achieved.
''I don't want to do anything if I don't understand the purpose, and it needs to be meaningful. Having a chance to work with Ovivo, who is passionate about water and a true leader in its field, that is a purpose. If I can help Ovivo in its mission to provide sustainable and efficient water treatment solutions, it's absolutely meaningful'', explains Ursula.

When asked what advice she would give to someone starting their career, she answers: ''Find something you're truly passionate about. Don't get distracted by what other people want you to do. You can take their advice if you're still unclear as to what you want. But when you've found your purpose, put all your best efforts in it and it will be meaningful.''
Ursula chose to study engineering because of her passion for mechanical engineering. It was her internship that convinced her to work in the wastewater treatment sector. Ursula had several opportunities to explore other industries. However, she felt there wouldn't be a better industry to work in that gave her purpose and meaning.
We are fortunate to have Ursula as a member of our board. She brings her strong management consulting know-how to the table, along with her own unique vision on life and the importance of doing things for purpose and meaning.