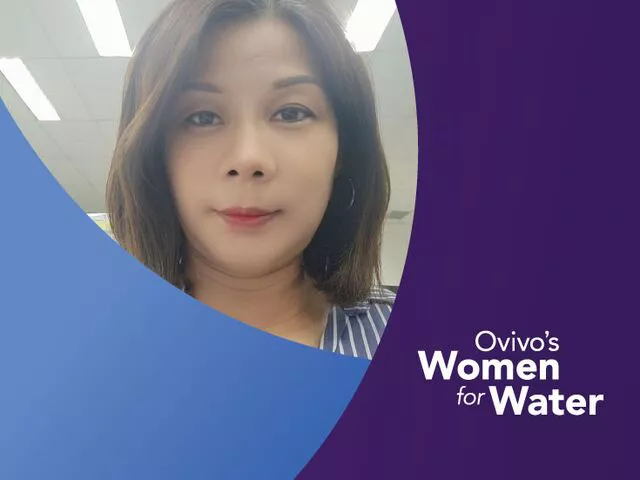 Nouvelles
Ovivo's Women for Water presents: Charlene Teoh  
Versatility: A Valuable Asset
Charlene Teoh never sought out a career in the water industry, yet she has been a part of it for almost 35 years and hasn't looked back. Perhaps it's simply part of her roots! You see, Charlene lives in Singapore, where water supply is part of a national security issue.
The Republic of Singapore is composed of one main island and 63 satellite islands and islets. It has the third-highest population density in the world and has a limited land area to catch and store the rainfall. On top of it, it has no natural groundwater or lakes. The country imports water from Malaysia and is currently implementing a strategy to achieve self-sufficiency by 2061.
About Charlene Teoh 
Charlene graduated from a local college in 1988 with a Building Drafting certificate. She began her career in a company manufacturing pressure vessel heat exchangers used in the Power Generation and Oil & Gas industries. It was while working there that she also obtained her diploma in Material Management. This helped her advance from drafting to procurement.
In May 1996, she joined Eimco Process Equipment as a Senior Estimator. Having recently opened a Singapore sales office comprising of three Canadians, Eimco decided it was time to expand locally. Charlene was part of the first hires, along with the Sales Engineers, Operations Manager, Project Manager and Project Engineer. She remembers coming to Montreal and Salt Lake City for a two-month training session. It was the first time she travelled so far away! She got to learn about the company and their product solutions.
Her Career in Water
Charlene is now a Senior Buyer. She is supporting the Sales department while also providing support to the Design team and Project engineers. The Singapore office has seen many changes since she began. Ovivo, which was known at that time as GL&V (Groupe Laperrière & Verreault), acquired Eimco from Baker Hughes in 2000. Many acquisitions followed, such as Brackett Green® and Christ Water Technologies®. Each time Charlene adapted to the changes in the workplace and learnt new skills.
The best advice she can give to someone starting a career is to not be afraid to learn new skills and take on new tasks. When recollecting the past 26 years at Ovivo, Charlene wore quite a few hats which included Internal Auditor and Warranty Administrator. ''Versatility is an important quality to have in a company, be willing to learn as it opens you up to new opportunities.''
Charlene's journey with Ovivo allowed her to grow from Senior Estimator to Senior Buyer while the company grew from a small sales office to an established engineering company providing water treatment solutions as well as servicing. Thanks to her versatility, she holds a wealth of information on all our heritage brands which makes her a valuable asset in our Singapore office.