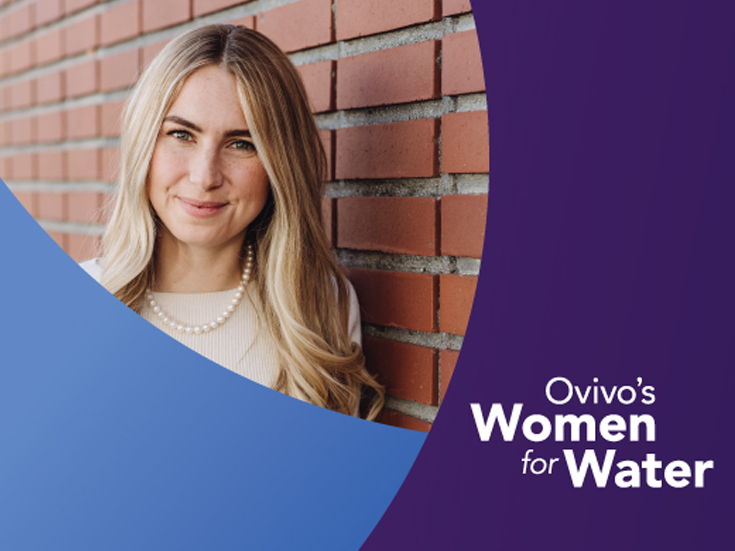 Nachrichten
Ovivo's Women for Water presents: Katie Henderson
Applying her skills for a meaningful social and environmental impact
Katie Henderson found her calling to work in the water industry during a humanitarian trip to Paraguay. She got to see the water crisis firsthand due to a massive flood in the capital, Asunción. Until that moment, Katie had taken access to clean water for granted.
About Katie Henderson
As she was already studying to become a Civil Engineer, Katie changed her focus from wanting to design bridges to building solutions for drinking water and wastewater treatment. She says ''It's cool to help people get over rivers, but it's a lot more meaningful and impactful to give people access to clean water''.
When realizing this change of heart, Katie finished her bachelor's degree in Civil Engineering with more of a focus on water. She then pursued a master's in environmental engineering. She also looked for internships that would allow her to work in the water sector, from the water lab on campus to a municipal water treatment plant, and a consulting water company.
During her junior and senior years, Katie was also involved with Engineers Without Borders. She worked on a project in Santiago de Tuna, Peru, where important levels of arsenic were naturally occurring in the community's well water. She became passionate about arsenic removal and pursued by working on another humanitarian project, during her master's, in an Indian community that was facing similar problems. These two projects were great experiences that reinforced her motivation to work in the water industry.
Her Career in Water
Katie remembers her first interview at Ovivo: ''I felt it was a good cultural fit for me and I liked that it wasn't necessarily all just design work, it involved a business aspect too. I felt as though I could continue to grow and learn. I also liked Ovivo's culture and am happy to see how ESG (Environmental, Social, and Governance) initiatives are growing within the organisation. I am proud of our sponsorship with the One Drop Foundation and that we are looking into implementing technology solutions that are not only economical, but sustainable.''
Katie Henderson is Technical Manager, Sustainable Projects at Ovivo USA located in Salt Lake City. Before she was a Product Manager in the sedimentation team first and then in the process aeration team. Her passion for water led her to this new position at Ovivo which allows her to be running two different pilot projects in research and development. Her goal is to design new processes and technologies that are more sustainable while also researching new water treatments for contaminants that cannot be removed with the current industry solutions.
Mentoring a New Generation for Careers in the Water Industry
Katie has been actively involved with the Society of Women Engineers (SWE) since her first year at Utah State University (USU). She began by attending meetings and eventually became President of the chapter in her senior year. Ovivo is now actively involved in sponsoring the USU SWE chapter. Katie explains: ''The sponsorship goes to support the club's events, which includes inviting Middle School aged kids to do engineering-based programs. High school girls also get to spend a few days at USU to get a feel for it. It's great that Ovivo's supporting SWE as it goes towards the next generation.''
The best advice she can give to someone starting a career in the water industry would be to surround yourself as much as possible with those who believe in you. Make opportunities for yourself and say yes to all those that come your way, no matter how difficult or intimidating they may sound. Be confident in your skills. Admit when you don't know and follow your passion.
Finding innovative solutions to clean water is something that Katie values, bringing meaning and purpose to her role at Ovivo.