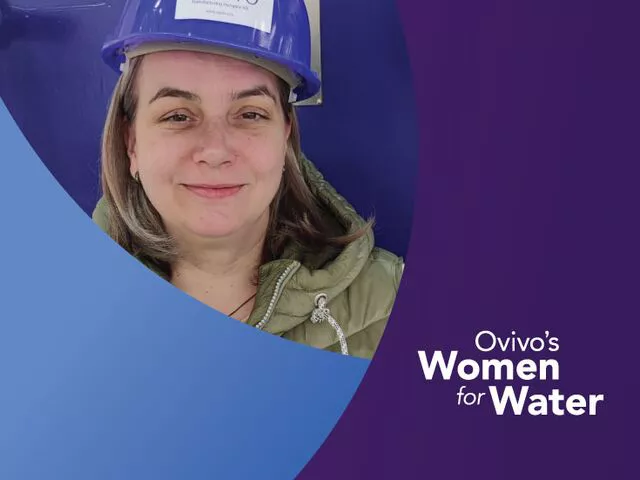 Nachrichten
Ovivo's Women for Water presents: Ildikó Kennedy Laborc
Procurement and Logistics Play an Essential Role in Wastewater Treatment
There's never a dull moment at work for Ildikó Kennedy Laborc. She's our Head of Procurement and Logistics at Ramivo, the Ovivo manufacturing facility in Hungary, which specialises in the production of stainless-steel piping and PVDF pipping for high purity water treatment systems. 
About Ildikó 
Ildikó has a master's degree in economics and agriculture from University of Pannonia in Veszprem Hungary. Speaking Hungarian, German and English, she was hired by the largest industrial manufacturing company in Europe. For 15 years, she gained knowledge and experience in the Energy sector and moved from Budapest to England.  
Her Career in Water 
Ildikó likes to say that she didn't choose water, it was water that chose her. She noticed a job posting and made the bold move to leave her job and move back home. She remembers thinking that the energy and water sectors were similar, both being essential human commodities, and that it would be a pleasant change. She applied for the position and was selected. 
She has been a part of the team for seven years now. For Ildikó, her job is more than just finding the right supplier, negotiating prices and delivery dates. It's working closely with our engineers during the design process to find the right parts to achieve the purest water systems. She loves her job and is extremely busy: ''It's not a car factory where we produce the same thing every day, day in, day out, next week and next month and next year.'  
Mentoring a New Generation  
Ildikó got involved in mentoring a university student a few years back that had chosen a topic in supply chain for her degree. Her thesis was quite a success, and she passed her final exam. If asked again, Ildikó would without a doubt mentor again as she sees the importance of getting more women in our industry. 
The best advice she can give to someone starting a career in the water industry would be to know more than one language. ''Language skills are a must, especially English''. She was fortunate to learn German at an early age as she went to a German bilingual school. She started taking English classes at university. She is adamant that learning these two languages gave her a wining chance.  
Ildikó finds it very motivating to be working for a company that produces systems to clean water! She loves seeing the big, massive skids move out of the plant, knowing she played an essential role in their production.